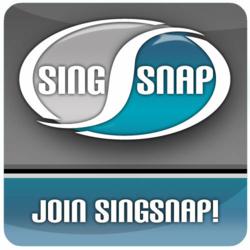 Look forward to artist specific players as well as additional content, interactive fun, and breaking news as part of this roll out - Trevor McGuire, SingSnap CEO
(PRWEB) November 02, 2011
SingSnap recently revealed their improved SingSnap Facebook Fan Page where Facebook members can sing karaoke hits without leaving the Facebook environment or providing their personal information to anonymous app designers. SingSnap has incorporated the Sing Player from their own web site into their fan page with which they rotate a mix of 20 popular songs from all music genres on a weekly basis.
"We're evolving this concept, and it will see some major improvements in the coming months", says SingSnap's president and CEO, Trevor McGuire. "Look forward to artist specific players as well as additional content, interactive fun, and breaking news as part of this roll out".
Along with the opportunity to sing hit songs, Facebook members who want to experience even more karaoke fun, including the ability to record and store their vocal creations and share them on SingSnap or Facebook, can register for a free SingSnap account directly inside the SingSnap Fan Page. Says Trevor McGuire, "We, as a group, are very committed to communicating and interacting with our community and this provides us one more vehicle for being able to do that".
Register at SingSnap.com for free access to singing and recording millions of karaoke songs.
###