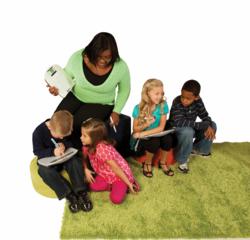 It was not easy to choose, but we believe the 15 finalists showed exceptional creativity and spirit.
- Eileen Shihadeh-Shald, vice-president of global marketing at eInstruction.
Scottsdale, AZ (PRWEB) November 01, 2011
eInstruction, a premier global provider of teaching and learning technology, announced today the finalists of its fifth annual Classroom Makeover Video Contest. The 15 finalists, representing the top video submissions from more than 250 entries from around the world, will be narrowed down to three grand-prize winners by a guest judging panel and through votes submitted by the general public on the contest site, http://www.2011classroommakeover.com.
The three classroom makeover prize packages include educational technology from eInstruction, American Education Corporation, Dell, Evan-Moor, FableVision, Hewlett-Packard, Ignite! Learning, Incredible Kid, Math Forum @ Drexel, Monarch Teaching Technologies, Nectar Foundation, netTrekker Search, School Specialty, StarrMatica and Study Island.
"The number of videos we received—the highest in contest history—is indicative of the growing desire for classrooms to incorporate advanced technology into today's teaching and learning," said Eileen Shihadeh-Shald, vice-president of global marketing at eInstruction. "It was not easy to choose, but we believe the 15 finalists showed exceptional creativity and spirit."
The finalists of the 2011 eInstruction Classroom Makeover Video Contest are:
Kindergarten – 5th Grade:

Kimberly Smith's class from Victoria Magathan Elementary School in Adelanto, CA
Lynn Martinez's class from Olmito Elementary in Brownsville, TX
Dan Cuoco's class from Antelope Ridge Elementary in Aurora, CO
Kamy Kellar's class from Centennial Elementary in Altoona, IA
Jacayla Toson from Linda Lentin K-8 Center in Miami, FL
6th – 8th Grade:

Joseph Groppe's technology class from Crews Lake Middle School in Spring Hill, FL
Karen Traylor's class from MacArthur Middle School in Lawton, OK
Cindy Ennis' class from Horace Mann Middle School in Charleston, WV
Oscar Garcia's class from Dr. Javier Saenz Middle School in Penitas, TX
David Liotta's class from Ditmas Junior High School 62 in Brooklyn, NY
9th – 12th Grade:

Gina McCarley's class from Lawrence County High School in Moulton, AL
Jim Boardwine's class from Streetsboro High School in Streetsboro, OH
Paul Brown's class from First Presbyterian Christian Academy in Hinesville, GA
Jamie Williams' class from Girard High School in Girard, OH
Elizabeth Carpenter's class from Chittenango High School in Chittenango, NY
Public voting is open through 11:59:59 p.m. EST on Dec. 5, and grand-prize winners will be announced on or about Dec. 16.
The guest judging panel that will help determine winners is comprised of seven leaders in the educational technology community, including: Mario Armstrong, Emmy-award winning radio and television technology talk show host and NBC Today Show contributor; Steven Anderson, #EdChat co-creator and Instructional Technologist at Clemmons Middle School; Sarah Wessling, 12-year veteran language arts teacher, and 2010 National Teacher of the Year; John Wilson, Executive Director for the National Education Association; Shelly Terrell, VP of Educator Outreach for Parentella and Social Media Community Manager for The Consultants-E; Punya Mishra, Professor of Education Technology at Michigan State University; Gregg Festa, Founding director of the ADP Center for Teacher Preparation and Learning Technologies at Montclair State University, and Kurt Eisele-Dyrli, former Products Editor for District Administration magazine and current Communications Manager for Professional Media group.
About the eInstruction™ Classroom Makeover Video Contest
The fifth annual competition was open to primary and secondary students and teachers in U.S., Canada (excluding Quebec), South Africa, the United Kingdom, Australia, New Zealand and Puerto Rico. Between August 29 and October 25, participants were invited to submit short, creative music videos demonstrating how they would use advanced technology to enhance their learning experience in the classroom. Videos had to be submitted by teachers and placed in the appropriate grade categories. For complete rules and guidelines on the eInstruction Classroom Makeover Video Contest, visit http://www.2011classroommakeover.com.
The complete eInstruction Classroom Makeovers range from $29,467 and $79,812 for each winner. In addition to the classroom technology, winners will receive a $500 cash prize for hosting a celebratory party for the entire school.
About eInstruction®
eInstruction is a leading education technology company dedicated to providing interactive teaching and learning technology and services that help educators drive academic progress every day, and give administrators the ability to monitor, aggregate, and analyze student performance data. The company offers educators and administrators a family of software, student response systems, fixed interactive whiteboards, mobile interactive whiteboards, and powerful enterprise‐based administrator tools.
eInstruction's research‐based solutions have been shown to increase student engagement and achievement while providing real‐time feedback and performance data to educators and administrators. Millions of students, teachers, and professors use eInstruction® technology in 500,000 K‐12 classrooms and more than 1,000 higher education institutions around the world. Available in more than 40 languages, eInstruction® technology is enhancing education in over 90 countries worldwide. eInstruction has offices in Denton, TX; Scottsdale, AZ; Cincinnati, OH; and Paris, France.
To learn more about eInstruction, please visit http://www.einstruction.com. For media inquiries, please contact Julie McKinney at Stanton Communications at (410) 727‐6855 or jmckinney(at)stantoncomm(dot)com.
# # #