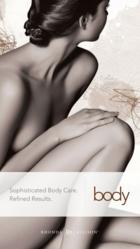 "When skin is not properly exfoliated it keeps beneficial ingredients from absorbing into the skin."
Dallas, TX (PRWEB) November 02, 2011
A recent survey conducted by Mintel shows consumers are widely displeased with their body products, indicating a large gap between product claims and customer experience. A new cosmeceutical body line, Nude Therapies by Rhonda Allison Cosmeceuticals, aims to change the results by using the same effective ingredients found in face care products.
According to Rhonda Allison, founder and CEO of Rhonda Allison Cosmeceuticals, the dissatisfaction could be a result of ineffective levels of high-quality, active ingredients, but advances in science could provide the results many consumers are searching for.
The Mintel report, which focused specifically on moisturizers, showed that 79 percent of users wish their lotions lasted longer; nearly half of them said their skin continues to feel dry, even immediately after applying the product. This report comes on the heels of a similar report issued by Mintel last year that revealed 31 percent of women in the U.S. distrust the claims of anti-aging products.
"Many over-the-counter moisturizers and anti-aging body products fail to provide hydration either because the skin isn't exfoliated regularly or because the formula lacks the active ingredients necessary to restore the skin," Allison said. "When skin is not properly exfoliated it keeps beneficial ingredients from absorbing into the skin. Often, too, the products lack adequate levels of high-quality active ingredients."
Regular exfoliation is a critical component of skin care. Exfoliating the body promotes cell turnover, helps remove the dead outer layers of skin, and paves the way for beneficial ingredients and nutrients to work into the cells.
"Proper cleansing and exfoliation provide the foundation for healthy skin care regimens," Allison said. "It initiates deep stimulation, in essence breaking the skin down to allow skin-building and nourishing ingredients to penetrate deep into the dermis. Intelligent ingredients – those enhanced by scientific advancements – build upon that foundation."
Ingredients like alpha hydroxyl acids, salicylic, L-lactic, oleic and linoleic acids, and retinol, which are found in the Nude Therapies Ultra Exfole and Peel Cream combine exfoliation and peeling to enhance hydration and rejuvenation. They also address other skin issues including hyperpigmentation, keratosis pilaris, acne, aging, dull form, slack skin and cellulite bumping.
"To actually see results from body care products, it is essential for exfoliation to be followed with high-quality skin-nourishing and fortifying ingredients," Allison added. "This includes organic plant stem cells, growth factors, peptides, amino acids, and antioxidants, to name a few. The goal is to treat the body with the same ingredients typically reserved for facial care products."
Nourishing formulas like the Nude Therapies Bio Reform 28 and Energizing Peptide Spritz support healthy capillary blood flow, improve oxygenation, plumps, firms, and rejuvenates the skin by improving cellular communication and tissue growth activation.
"A skin-care regimen that includes exfoliation, peeling and powerful age-reversal formulations like Bio Reform 28 provides an effective way to achieve youthful, supple, polished skin, and often times can serve as an alternative to costly invasive procedures," Allison said.
High-quality intelligent ingredients that have shown to produce results include:
-->Organic stem cells, which are extracted from plant and apple stem cells and have the ability to promote longevity in human cells
-->New-generation peptides, like palmitoyl tetrapeptide and oligopeptide work to improve tissue elasticity and firmness while stimulating collagen production
-->Matrix Metalloproteinase Enzyme Inhibitor Complex, which reduces activity of enzymes that destroy and degrade the skin's collagen network
-->Epidermal Growth Factor (EGF), an essential protein that accelerates cell regeneration
-->Bellis Perennis (Daisy Flower), the polyphenol-rich lightener that inhibits excess melanin and lightens the skin surface
These ingredients are also found in the Rhonda Allison Nude Therapies Body line. For more information visit, http://www.rhondaallison.com/Nude_Therapies.
About Rhonda Allison Cosmeceuticals
Rhonda Allison Cosmeceuticals, a professional skin care company, specializes in providing cosmeceutical skin care products, extensive education and services to licensed aesthetic facilities. Deviating far from the mainstream, Rhonda Allison creates solutions for all skins using pure, fresh formulas that combine nature and science.
###