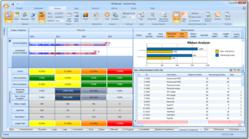 With the release of Fuse 360, the first add-in module for the Fuse platform, the options for analysis and optimization continue to grow.
Austin, Texas (PRWEB) November 02, 2011
Acumen (http://www.projectacumen.com) has announced a major upgrade to Fuse, an advanced project analytics platform, from Version 2 to Version 3, and the launch of the first add-in module for Fuse, 360.
Fuse uses libraries of metrics to offer an advanced schedule analysis as well as the assessment of cost forecast accuracy, risk model realism, earned value and project performance. The release of 3.0 includes faster analysis and error fix, advanced visualization options and new, in-depth analysis features:

Schedule Cleanser™: Remove schedule constraints and complexities in a single click; publish the cleansed version of the schedule back to Primavera or Microsoft Project
Timeline Visualization: View key activities and milestones on an easy-to-read timeline for use in project insight and reporting
Logic Trace™: Visualize schedule logic. Analyze the driving logic linking activities both forward and backwards.
Fuse Quality Index™: Understand how a project measures up by looking at the Quality Index™
"The release of Version 3.0 of Fuse is the most feature-rich upgrade we have had to date. Acumen customers will now have greater project analysis flexibility within the base Fuse platform, and with the release of Fuse 360, the first add-in module for the Fuse platform, the options for analysis and optimization continue to grow." said Acumen CEO & Founder, Dr. Dan Patterson.
Fuse 360 is the first goal-based project optimizer that captures the insight of an experienced project team to automatically generate multiple "best path forward" scenarios. Valuable to both owners and contractors, Fuse 360 moves beyond traditional "rear view mirror analysis" to automate schedule acceleration, what-if scenario creation, and provide the insight needed for true decision support. Align a plan to owner, stakeholder, or internal expectations during the planning phase or recover costly delays and overruns during execution.
Criteria Builder™: Set project goals and define criteria that directs 360's acceleration efforts
Scenario Generator™: Automatically generate optimized project scenarios
Project Integrator™: Integrate the selected "best path forward" back into Primavera and Microsoft Project
"Fuse 360 raises the bar for the level of control a project team is capable of," said Acumen CEO, Dr. Dan Patterson, "combined with the Fuse engine, Fuse 360 uses a repeatable process to create reasonable and adaptable accelerated schedules. "
Fuse 3.0 and Fuse 360 integrate directly with Oracle Primavera P6, Microsoft Project, Oracle Primavera Risk Analysis, Deltek Open Plan, Asta Power project, and Excel. Free trials of Fuse 3.0 and 360 are available by visiting http://www.projectacumen.com.
Acumen was born from a recognized need for improved project performance insight and vision, integrating both schedule and cost. Through the use of project analytical techniques and best practices, Acumen has built a project management company that is second to none in providing insight into not only project challenges but, more importantly, an effective means of solving them with analytics.
###