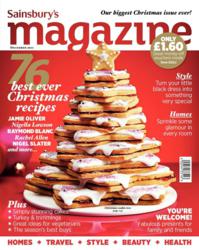 'Our great recipe ideas from foodie heroes and heroines such as Raymond Blanc, Rachel Allen, Jamie Oliver and Yotam Ottolenghi will trigger their taste buds and get them itching to get the oven gloves on.'
London (PRWEB UK) 2 November 2011
Sainsbury's magazine's December issue hits the shelves this week – and it's bigger and better than ever! Bursting at the seams with holiday inspiration, the new issue is the biggest in 18 years, giving you more food, more features and more freebies – and it's still only an incredible £1.60! Available in store from 2 November, this month's fantastic-value magazine is not just full of fabulous festive ideas, we're giving away great free Christmas gifts to every reader!
No other magazine gives readers so much quality content for such a great-value price. The massive Christmas-themed 276-page issue of Sainsbury's magazine is full of everything you need to see you through the festive season from gorgeous food to fabulous fashion!
Featuring even more seasonal recipes and ideas from top names in food, including Jamie Oliver, Nigella Lawson, Raymond Blanc, Nigel Slater and Rachel Allen, the new issue of Sainsbury's magazine covers every possible detail to make sure you have a very merry Christmas, from great gifts to buy and crafty ones to make to inspiring ideas to decorate the home plus festive fashion, beauty and confidence tips to ensure you are looking perfect for the party season!
That's not all - with a free Lindt chocolate bar, free Christmas roses (worth over £15) and a free Rat Pack CD, not to mention great money-off vouchers inside, Sainsbury's magazine is treating every reader with great Christmas giveaways. We've even included a 60p-off voucher so you can pick up the January issue for just £1!
Helena Lang, editor of Sainsbury's magazine, says: 'Sainsbury's magazine readers don't have to cook, they love to cook and the Christmas season gives them the opportunity to shine. Our great recipe ideas from foodie heroes and heroines such as Raymond Blanc, Rachel Allen, Jamie Oliver and Yotam Ottolenghi will trigger their taste buds and get them itching to get the oven gloves on.'
Sainsbury's magazine, published by Seven, the award-winning customer engagement agency, is now the UK's most widely read paid-for title. With over 3.5 million readers every month (NRS), it is the only magazine to have won the covetable PPA Customer Magazine Award three times at the annual Periodical Publisher's Association (PPA) Awards.
Sainsbury's magazine's unique mix of food and lifestyle content offers its readers recipe inspiration from the magazine's renowned food team, plus ideas for their homes, families, health and holidays. At only £1.60, the monthly glossy is incredible value, with tips and advice from the best writers and contributors.
http://www.seven.co.uk
Notes to editors
About Seven
Seven is an award-winning multi-channel strategic content agency. Experts in creating intelligent, relevant and effective content across multiple channels, including magazines websites, social media, interactive ezines, video, iPhone and iPad apps.
Clients of Seven include Virgin, Sainsbury's, CIMA, English Heritage, Grant Thornton, Guardian Media Group, Lloyds Banking Group, New Look and Waterstone's.
For further information: http://www.seven.co.uk or contact Shareena Ali, PR, Shareena(dot)ali(at)seven(dot)co(dot)uk 020 7775 5549.
Contact at Seven:
Shareena Ali
PR
Seven
3-7 Herbal Hill
London
EC1R 5JF
Tel: 020 7775 5549
Email: shareena(dot)ali(at)seven(dot)co(dot)uk
###