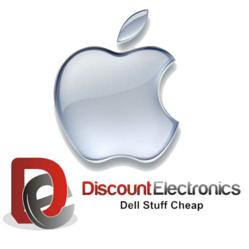 It's easier to teach someone about computers than it is to teach them how to be a good person
Austin, Texas (PRWEB) November 03, 2011
DiscountElectronics.com is no stranger to awards and accolades including Best Computer Store. This year, however, Apple computer gave the local Austin company a run for its money. In a 2011 Austin Chronicle Readers Poll, Austinites chose Discount Electronics and Apple as the Best Computer Store.
The two businesses sell completely different lines of products. Apple sells, well, Apple and DiscountElectronics.com sells nothing but Dell. What the two do have in common is a reputation for outstanding customer service.
DiscountElectronics.com opened its first retail store four years earlier than Apple, in 1997. Although the Austin company's growth has not equaled that of Apple Computer, Discount Electronics now employees over 100 people in the Central Texas area and has annual revenue expected to surpass $20M in 2011.
DiscountElectronics.com has focused on off lease Dell Computers and Laptops as well as Dell Parts since conception. CEO Rick Culleton states "It's the perfect mix of a great product and outstanding customer service."
Discount Electronics is known for hiring young energetic sales associates. The company looks for people that already have good customer service skills and then teach them the technical side of things. "It's easier to teach someone about computers than it is to teach them how to be a good person," Culleton said.
One common thread between the employees of both companies is that they like or love their jobs. The sales associates we spoke to from both Discount Electronics and Apple Computer seemed to overflow with enthusiasm for their job. Perhaps that is what makes a great company.
# # #