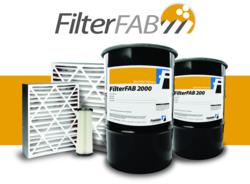 "The FilterFAB line builds upon our experience in this market – and our 75 years as a leader in industrial adhesives – to introduce advanced solutions for fabricating air and liquid filters."
Columbus, Ohio (PRWEB) November 03, 2011
Franklin Adhesives & Polymers, a division of Franklin International, has helped make it easier and quicker to fabricate durable filters with its new FilterFAB line of adhesives.
The FilterFAB line launches with three adhesives that meet many bonding applications in the assembly of air and liquid filters. The line includes two water-based Polyvinyl Acetate (PVA) adhesives for assembly and a polyurethane filtration adhesive that can handle end cap potting and edge/frame sealing.
Rigorous in-house testing indicates that both of the two PVA adhesives – FilterFAB 200 and FilterFAB 300 – offer stronger bond strength than other filter fabrication adhesives. (The testing measured paper tear on filters exposed to high heat and humidity for four days. Filters assembled using the FilterFAB adhesives had significantly more paper tear than the filter assembled with a competitive adhesive.) Both of these PVA products provide the convenience of one-part formulation and the easy cleanup inherent in water-based adhesives. Compatibility with most glue spreader systems makes it all the easier to use either of these FilterFAB products.
Similarities aside, the PVA adhesives offer distinctive characteristics to meet specific applications. Developed for cost-effectiveness and speed, FilterFAB 200 offers a set time of less than 30 seconds – making it one of the fastest-setting adhesives available for filter assembly. Additionally, it can be applied in temperatures as low as 35°F.
In comparison, FilterFAB 300 is a high-performance PVA ethylene copolymer emulsion adhesive with very strong green and tensile strength. It sets almost immediately with some repositionability. In many cases, this adhesive eliminates the need for clamping. While FilterFAB 200 contains no added formaldehyde, this formulation is formaldehyde-free.
FilterFAB 2000 is a two-component solvent-free polyurethane assembly adhesive for assembling air, water and oil filters. It is particularly ideal for potting filter end caps and bonding side seams. This versatile adhesive bonds well to metals, PVC, vinyl, fiberglass and cellulosic materials and offers good chemical resistance as well as good heat resistance with temperatures below 170°F. Room-temperature cure time of three to five minutes can be heat accelerated, and it reaches handling strength in less than ten minutes. As powerful as it is versatile, this FilterFAB adhesive offers Shore D Hardness of 80 to 82 (when fully cured) and meets FDA regulation CFR 175.105 for indirect food contact. It is also available in two colors, beige and white.
"Franklin Adhesives & Polymers has served the filter fabrication market for more than 15 years, along the way earning a reputation for high-quality adhesives and excellent customer service," said Dan Pikula, technical director. "The FilterFAB line builds upon our experience in this market – and our 75 years as a leader in industrial adhesives – to introduce advanced solutions for fabricating air and liquid filters."
For more information on the new FilterFAB line of adhesives, filter manufacturers can visit Franklin Adhesives & Polymers, e-mail marketing@franklininternational.com or contact Franklin Adhesives & Polymers' Technical Service at 1.800.877.4583.
About Franklin International: Based in Columbus, Ohio, U.S.A., Franklin International was established in 1935 and today is among the largest privately held manufacturers of adhesives sealants and polymers for commercial and industrial applications. Franklin integrates its core competency – emulsion polymerization – into a broad product offering, including glues, adhesives, hot melts, binders, sizing compounds and more. These products are distributed across six continents for use in construction, furniture manufacturing, filtration, millwork, paper converting, pressure-sensitive products, filters and fiberglass reinforcement.
###