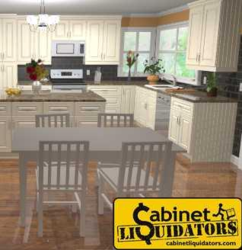 Consumers can now design their dream kitchen online and view the cabinetry
options to make their dream a reality.
North Palm Beach, Florida (PRWEB) November 02, 2011
In partnership with 2020 Technologies CabinetLiquidators.com has created a new interactive virtual room design tool. This application allows customers to create designs online from the comfort of their own homes and design a cabinet layout to suit their space. They can even share designs with family and friends, collaborate online by sending links by email or on social networks. Customers can also choose from pre-designed layouts and make modifications to create their own personal style. The online design tool enables customers to view each wall to confirm the layout plus they can select a plan view to see the entire layout. The 3D aspect allows customers to render their design in color in a 3 dimensional view that will give them a complete virtual room design concept. They can even change the wall colors, flooring, countertops, backsplashes and accessories. Once they finalize the design and layout of their new space, a cabinet list can be generated and customers can place the order through the cabinetliquidators.com shopping cart any time of the day or night. If at any point a customer decides they need assistance they can email their design to our design center directly from the virtual design tool and a professional designer will contact them to assist with finalizing their design.
"Consumers can now design their dream kitchen online and view the cabinetry options to make their dream a reality."
Contractor's, Remodeler's and DIY'ers from coast to coast will all benefit from using the Online design tool which is available 24/7. This means the entire process of measuring, Designing and ordering can be completed without having to wait on anyone, keeping your project on schedule. CabinetLiquidators.com offers fully-assembled all-wood kitchen and bath vanity cabinets at factory direct prices. And, once your order is placed, the cabinets are built to order and shipped within 10 days.
Cabinet Liquidators also offers a free design service for customers who prefer to work with a professional designer. Work one- on-one with our designers and create the Kitchen of your dreams. Cabinet Liquidators offers a variety of styles and finishes.
100% real wood cabinets in a espresso finish with a shaker door give the Farmington Midnight Glaze Kitchen an updated bold contemporary look.
CabinetLiquidators.com has more than 40 years of experience in the cabinet industry, so its team understands that remodeling a home is a major investment. The company's friendly staff can assist customers with their projects and make their dreams a reality.
The company also provides design services that includes free designs by trained professional designers and an actual quote to place an order with . Customers need only fill out an online design request form, and CabinetLiquidators.com will get them started. The company's professional kitchen designers will work with consumers one-on-one to make sure the kitchen cabinets are designed correctly based on measurements and ensure consumers are confident in their online purchase.
CabinetLiquidators.com's versatile cabinets feature all-plywood construction, with solid wood face frames and doors. No particleboard or engineered wood can be found in its cabinetry. Cabinet Liquidators custom builds each cabinet at its 100,000-plus sq. ft. factory in central Florida, CabinetLiquidators.com can deliver a consumer's dream kitchen whenever it's needed -- and without blowing their budget.
For additional information, contact CabinetLiquidators or visit CabinetLiquidators.com. CabinetLiquidators.com is a registered trademark of Cabinet Liquidators.
About CabinetLiquidators.com
CabinetLiquidators.com was created to meet the high demand of home owners, investors, remodelers and contractors everywhere. In business since 2005, the demand for Cabinet Liquidators' high quality yet surprisingly affordable kitchens, vanities and closets is as strong as ever and growing at a remarkable rate.
The family has been manufacturing 'built to last' kitchens for over 35 years. They owned Hygena in the UK, selling it when it was the UK's number one kitchen and bedroom brand. They then set up Mills Pride, one of the largest kitchen manufacturers in the USA with over 250,000 cabinets produced a week.
Cabinet Liquidators isn't like other kitchen companies. Being a family run business, they focus all their efforts on giving the customer what they want: beautiful kitchens, vanities and closets at affordable prices, delivered fast! From their exciting new online design service, through delivery, they make the normally difficult process fun and easy.
Meticulous about quality, service & delivery, all of Cabinet Liquidators cabinets are Factory Assembled by experienced cabinet builders, before they ship from their factories, direct to the customer's home or job site. Being Factory Assembled means that their cabinets are much higher in quality than knock-down or RTA cabinets, plus it makes them much easier and quicker to install, saving customers more valuable time and expense.
###