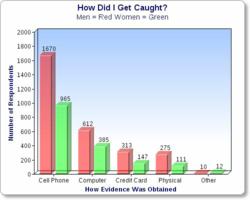 our website is here to assist in the building of new relationships for attractive and upscale individuals, not to tear existing ones apart.
Miami, Florida (PRWEB) November 02, 2011
It's amazing. In this era of superior technology, that a person's low-tech way of thinking will ultimately be his or her downfall in any nefarious endeavor that person may be involved in. This goes especially for those who may be cheating, or merely thinking about cheating on a partner. One online dating site, Sugardaddie.com has seen a significant rise in the number of people who have been caught cheating on a spouse despite a survey conducted among both male and female members that shows the number of their members actually committing acts of infidelity is declining compared to society in general. The survey also reveals that the most common reason for a person getting caught is that they leave incriminating evidence on their cell phone. It would seem that the smarter phones get, the stupider people become.
During this survey Sugardaddie.com asked a random sampling of over 25,000 members, (of which 64% were male), if they had ever been caught cheating on a partner. Of the 4500 that responded in the affirmative, nearly 58% admitted it was due to information or pictures that were left on their cell phones. Steven Pasternack, CEO of Sugardaddie.com is quick to point out that while this dating site does not condone infidelity, it is also not the moral compass of society. Mr. Pasternack states that "our website is here to assist in the building of new relationships for attractive and upscale individuals, not to tear existing ones apart." However, he also went on to say that he is amazed at how people who engage in such activities leave all common sense, along with obvious evidence behind.
A form of cell phone communication known as "sexting" is when individuals engage in the act of sending sexually suggestive messages or photographs to one another through their cell phones. These messages can easily be deleted, but quite often are not, and are the number one reason cheaters get caught by a spouse or partner. Cell phone users forget that information may not only be saved on their phone but on the smart card within the phone as well. Mr. Pasternack says that all information in this day and age needs to be safeguarded, whether it is the personal identification number to your phone, the passwords to your computer, email, or even an online dating site. If you want to keep something private you need to take measures to do so.
Steven Pasternack goes on to say "in any venture that one wishes to keep private, whether its online dating or a corporate merger, be careful of prying eyes and what you leave behind, as well as limiting the number of people who are aware of your activities." Its much easier to be open and upfront about what you are doing, In regards to online dating, you are dealing with people's emotions, and the more honest you are, the less you'll have to hide. In today's world, access to information is only a few mouse clicks away, and if your doing something you shouldn't be, most of the time it doesn't end well.
Smart phones have many other functions that communicate information to others if handled properly, including GPS tracking which enables someone to locate a cell phone, and therefore its user too! According to the majority of the staff and executives who conducted this survey, if you are in a relationship in which your are frequently inclined to cheat on your partner, then it is probably not the right relationship to be in, however if you must do the deed, then try to be a bit smarter than your smart phone.
About Sugardaddie.com
Sugardaddie.com is an internet dating site that was founded in 2002. Since its inception they have appeared in the media numerous times in print, radio and TV etc, in both the United States and abroad. Sugardaddie.com offers a unique dating experience to meet the demand of its members who desire to meet others considered to be attractive and affluent.
###