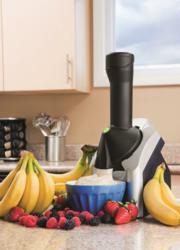 Cleveland, Ohio (PRWEB) November 01, 2011
Tony Horton, known to many as the creator of one of today's most popular fitness routines—P90X—has a sweet tooth for a new kitchen appliance that turns frozen fruits into delicious desserts. Now, as the holidays approach and people are especially apt to watch their waistlines, Horton is offering the Yonanas Maker to his followers on the online community marketplace OpenSky, sharing his appreciation for the machine and allowing health-minded people to indulge in frozen treats without guilt.
The Yonanas Maker is a revolutionary new home gadget that can transform any frozen fruit into a decadent, creamy treat without using any milk, cream, sugar, soy, yogurt or artificial sweetener. The secret is the machine's high torque blades that churn out a mouth-watering soft-serve dish that has the consistency of ice cream and a fraction of the calories. Daring Yonanas fans even run vegetables like pumpkin, squash and avocado through the machine, churning out a savory treat that takes eating your greens to new heights.
OpenSky's Yonanas sale will commence on Tuesday, November 1 and last 24 hours. The machine retails at $49.99. Readers can learn more about OpenSky's Yonanas sale here.
About Healthy Foods LLC
Husband and wife team, Brian Machovina and Eileen McHale have shared an adventurous and entrepreneurial spirit since they met in high school. Working in the natural foods industry and as a private chef, McHale, a lactose-intolerant ice cream lover, developed the idea of the Yonanas maker to address her unhappiness with other ice cream alternatives on the market. From launching Yonanas to broadcasting nutrition lessons in schools across the country, sharing delicious and healthy food is central to the mission of Healthy Foods LLC.
# # #