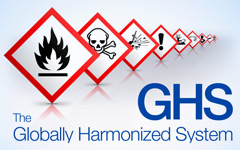 OSHA's final rule submission marks a major milestone; the agency has been planning to revise HazCom to incorporate GHS for nearly a decade.
Vancouver, WA (PRWEB) November 04, 2011
The Occupational Safety and Health Administration (OSHA) recently submitted its revised Hazard Communication (HazCom) Standard to the Office of Management and Budget (OMB). If approved, the final rule will revise HazCom to align with the Globally Harmonized System of Classification and Labeling of Chemicals (GHS).
View OMB's Post on OSHA's proposed HazCom rule.
OSHA's final rule submission marks a major milestone; the agency has been planning to revise HazCom to incorporate GHS for nearly a decade. OMB has 90 days from OSHA's submission date of October 25, 2011 to review the revised standard. Upon approval, the final rule will be published in OSHA's Federal Register. However, OMB also has the right to extend this 90 day period, if deemed necessary.
Developed by the United Nations, GHS is a worldwide initiative promoting standard criteria for classifying chemicals according to their hazards and communicating hazard information on labels and safety data sheets. GHS is currently implemented or in various stages of implementation in 67 countries. Visit the United Nations Economic Commission for Europe's (UNECE) GHS site for more information.
To help organizations understand the dramatic impact GHS will have on US organizations, Safetec has taken the lead in GHS education. Safetec's Director of Environmental, Health and Safety, Kim Peterson, gave a GHS preparedness presentation at the National Safety Congress and Expo in Philadelphia on November 1st, 2011.
Ms. Peterson will also be delivering a complimentary webinar entitled "Understanding GHS and Its Impact on Compliance" on November 30, 2011 at 11am PDT. The webinar will provide attendees with a basic understanding of GHS and a step-by-step plan of preparing organizations for compliance. Specifically, GHS labeling formats, secondary labeling scenarios, GHS Safety Data Sheets (SDS), employee training and GHS hazard classification will be covered. Additionally, strategies on how to revise internal HazCom training materials and effectively communicate the impact of GHS to the broader organization will be provided. Register for the GHS webinar today to stay ahead of this emerging standard!
Safetec has compiled a comprehensive tool kit to help educate organizations regarding the upcoming changes associated with GHS. Documents include a GHS Overview, a six-step GHS Transition Guide and a GHS whitepaper, entitled "An Overview of the GHS Purple Book". Download the GHS Toolkit now.
About Safetec
Safetec Compliance Systems, Inc. is a Software-as-a-Service (SaaS) company specializing in delivering chemical compliance management solutions to organizations around the globe. Safetec provides web-based (M)SDS management, automated regulatory reporting, chemical approval processes, on-site inventory services, and more. Since 1998, Safetec has partnered with Environmental, Health and Safety; Information Technology; and Risk Management professionals to meet the challenges and mitigate the risks associated with hazardous chemicals.
###