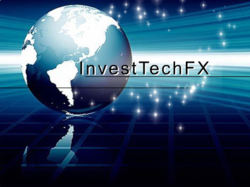 Forex ECN The Wave Of The Future
Hong Kong (PRWEB) November 04, 2011
Online Forex traders new to Forex currency exchange trading were often put off by margin deposits exceeding $100,000. Some Forex ECN brokers had minimum initial account deposits of $250,000.
Although margin deposits with a market maker broker could be lower, higher, variable spreads, even on major currencies, could result in a large percentage of trading profits going to the broker, or worse yet trading losses being magnified by that large percentage. InvestTechFX has eradicated this reality by making minimum account size and trade size very reasonable, also offering some of the most competitive spreads.
For example, if a trader pays a market maker a two pip spread on a 1000 unit trade of the EUR/USD that earns a ten pip profit, InvestTechFX experts explain that the two pip spread would cost that trader 20%. Any broker of stocks, bonds or futures that tried to charge a 20% commission would be drawn and quartered. Fx trading experts at InvestTechFX go onto explain that the percentage represented by the spread would decrease as profit increased, but upon objective examination, it seems as though the trader takes the risks and the market maker broker reaps the reward with zero risk. In times of high volatility, the market maker's spread can even be higher, further eroding positive trades and escalating the damage of losing trades.
An Electronic Clearing Network (Forex ECN) broker like InvestTechFX, on the other hand, offers spreads as low as one half pip on major currency pairs. The spread can be higher on the currencies of politically and economically unstable countries, but new traders shouldn't be trading these currencies in the first place and experienced traders have already learned to avoid them.
InvestTechFX has opening margin deposits of as little as $100, so new traders can sample foreign currency exchanges with minimal risk and have the opportunity to determine Forex trading's suitability to their temperament and circumstances. They also offer clients the use of MetaTrader, considered to be the gold standard of trading software. This is the same trading platform preferred by large professional and institutional traders, those whose deal in multimillion unit Forex currency exchange transactions.
InvestTechFX recently reported the potential for a breakout to the upside of the EUR/USD pair, based on the stagnation of price activity around $1.39 and the very real prospect of China coming to the EU's rescue. Bankers facing a 60% write-down of the Greek debt they were holding, along with the real possibility of being left with entirely worthless paper, happily accepted China's offer of $.50 on the dollar.
News of the agreement, details of which remain to be finalized, sent the EUR/USD on a 350 pip tear, explains InvestTechFX. The uptrend lasted throughout the New York session until close to the end, when prices retreated slightly, but in no degree sufficient to declare a reversal. Still, experts still admit that they don't know with total assurance what the market will do.
The Forex trading company InvestTechFX is a proven leader in the industry of artificial intelligence software. They are renowned for their top notch trading technology systems in the computerized trading industry whose experts develop advanced, customizable, intuitive, efficient, and sophisticated trading tools that help people understand Forex currency exchange related trends and developments. Apart from offering new, exciting, and innovative solutions, they are well known for their detailed and comprehensive learning center. Information contained in this report should not be construed as investment advice. All trading decisions and outcomes are the total responsibility of the person or persons making them.
InvestTechFX supplies objective technical and fundamental analysis for free. Anyone deciding to enter currency transactions based on this analysis does so at their sole risk and accepts complete responsibility for the outcome. FX trading is challenging. Stacking the deck in your favor by getting the lowest per-transaction costs and access to professional trading software is a commonsense approach to starting out or staying on the right foot. http://www.investtechfx.com
###