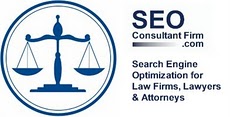 (PRWEB) November 02, 2011
The SEO Consultant Firm understands the importance of lawyer website visibility which has a direct impact on the traffic sent to a law firm's website. By working with a number of law firms that have doubled their website traffic, the SEO Consultant Firms suggests following these four steps…
1.) Write a Press Release every week. Most attorneys don't realize that they do not need a PR agent to create press releases anymore – the web has changed the rules. Anybody can now create and syndicate press releases online and reach many of the most important news outlets including Google news within a matter of days, hours and even minutes. What if you don't have the time, discipline or experience to write a press release once a week? Then simply hire a writer and law firm search engine optimization consultant who can help manage the process.
2.) Make sure to optimize the titles in a press release. There is an old saying that people tend to read a book by its cover and when it comes to press releases – this is absolutely the case. If the goal of a press release is to capture somebody's attention, the best way to do this is by creating the most effective and attention grabbing titles for a press release that you can. If a press release doesn't include catchy titles, readers will never look past the subject line when deciding which of the many press releases they have to chose from to read. A good rule of thumb is to spend as much time researching and writing the title of your press release as you do writing the text. This may sound extreme but remember if publishers place so much emphasis on the title of a book, it should equally apply to the title of a press releases.
3.) Create inbound textual links to a website/s from your press releases. When it comes to SEO link building, one of the best ways to create textual inbound links from high authority sources is through the use of press releases. Most press release services offer the option to link anchor keywords within the body text of a press releases directly to a website and other online properties. In most instances, a common rule of thumb is to create one inbound link per 100 words. So if a press release in created with 500 words (which is a pretty common medium for length), than it should ideally have 5 links created within it to web properties such as a website. It is also a good idea to create and maintain a link list that will provide writers with a guide of where they should be actively creating inbound links to, what should be in the anchor text, and a record of where you have linked to and how often. Again, if what has been suggested here just went over a writers head, a good law firm internet marketing consultant will be able to help manage this process.
4.) Syndicate press releases through the strongest press syndicates. When it comes to getting visibility and inbound links, the best place to start is by using the highest authority press release syndicates for your press releases. The highest authority syndicates include: PRWeb.com, Marketwire.com, BusinessWire.com and PRNewsWire.com. These are the syndicates where the most important press releases should go to and inbound links should come from. A good press release through these syndicates can sometimes create hundreds of new inbound links from many high authority affiliates who distribute press releases from these sites. Secondary syndicates include: JDSupra.com, 24-7PressRelease.com, PRLog.org, and Free-Press-Release.com. Many of the highest authority press syndicates can cost from $200-$600 per release so it is a good idea to work with a good lawyer internet marketing consultant who will commonly negotiate bulk purchases of these press releases as well as help write and SEO press releases. A good law firm marketing consultant will also be able to manage the rotation of press syndicates used and how links will be created and managed.
By following these four steps, the SEO Consultant Firm has seen numerous law firms double their website traffic leading to higher visibility in the search engines and new client and case generation. To learn more about how a strategic press release strategy can help improve a law firm's performance online, please contact Dustin Ruge at the SEOConsultantFirm.com today to learn more. (646) 580-8660. Earn your free CLE credits or learn more about Omaha real estate attorney marketing at our website.
###