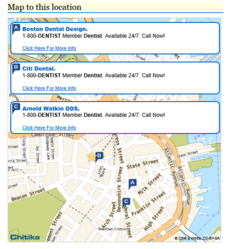 "Our experience with the Chitika Map ads has been a very positive one," said Steve Rubinstein, VP Engineering and Operations for Topix. "They [Chitika Maps] have become an integral part of our revenue stream and will continue to be for the future."
Westborough, MA (PRWEB) November 02, 2011
With users of maps services facing the arrival of usage charges in 2012, Chitika Inc. offers an exciting solution for those looking to turn maps into a new profit source for their sites. Chitika, a data analytics company in the business of online advertising, offers opportunities to publishers looking to monetize their websites, including Chitika Map units.
"Our maps product is extremely appealing to publishers, offering the functionality that they are looking for in a map, while also acting as a revenue generator," said Ryan Travis, VP of Client Services for Chitika. "It's a great end-user experience, which is a rare trait in an advertisement."
Chitika Map units are an instrumental part of Chitika's Local Ad Exchange division, comprised of several major players in the local ad space including; Yellowbook, Superpages and ServiceMagic, among others. Chitika's Map units provide links to relevant local advertisers, converging viewer interest with profitable content, as illustrated on sites like Showmelocal.com. Revenue generated from Chitika Maps is passed along to publishers, making it a welcomed alternative service.
Topix.com, a leading news community on the web, is among those taking advantage of Chitika Map ads. "Our experience with the Chitika Map ads has been a very positive one," said Steve Rubinstein, VP Engineering and Operations for Topix. "They [Chitika Maps] have become an integral part of our revenue stream and will continue to be for the future."
To learn more about Chitika's Local Ad Exchange division, visit http://www.chitika.com/lax
About Chitika
Founded in 2003, and head quartered in Westborough MA, Chitika is a data analytics company in the business of on-line advertising. Through the application of data and innovative technology in the fields of mobile, local and search Chitika has developed a vast global network that maximizes yield for both publishers and advertisers. For more information http://www.chitika.com
###