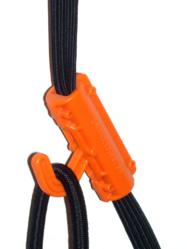 The Strap Gripper is so simple yet proven to be so useful. Where has it been all my life?
Lampasas, TX (PRWEB) November 07, 2011
When duct tape is not enough, some jobs require the use of better securing methods like bungee, web straps or rubber tie downs. But when the hooks or ends pull off due to overuse, why buy a new strap when you can get The Strap Gripper. The Strap Gripper (http://www.strapgripper.com) was invented, designed and perfected by Robert Guptill, founder of Guppy Enterprises. "I created The Strap Gripper because of the frustration experienced when my tie down cords were not the exact length I needed them to be. The Strap Gripper allows me to adjust my straps to any length necessary."
Save time and money by never having to throw away perfectly good straps, bungee or elastic cords or rubber ropes again. The Strap Gripper secures quickly and easily onto any bungee or rubber strap up to 7/16 inches in diameter, without even needing to tie a knot.
The Strap Gripper also saves time and money by making the straps already owned adjustable. Depending on the size of the job, many people think they have to buy a different length of tie down for each one. The Strap Gripper makes this unnecessary. With just one long bungee cord, elastic cord, web strap or rubber tie down, The Strap Gripper simply slips on and can adjust the strap to whatever the length needed for the job.
The Strap Gripper is also reusable, so there is no need to buy extra tie downs. The money saved by not having to own multiple lengths of tie downs for all the various jobs that may arise, all you need is a few Strap Gripper's and some long straps. Keep a few handy in the garage, barn, glove compartment, trunk, purse or work bench for a quick fix no matter where the need.
Visit http://www.guppyenterprise.biz to see all the different ways The Strap Gripper can be used in securing items in place without the use of special tools or multiple straps. The Strap Gripper makes all tie down jobs faster, easier and less expensive. User friendly, durable and multi-functional, never be without The Strap Gripper again.
Made in the U.S.A.
###