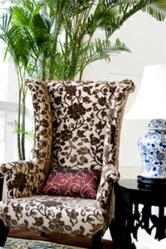 "With the popularity and at times necessity to take indoor living spaces outdoors it's natural for us to enrich our brand with interior décor fabrics that appeal exclusively to the high end consumer and interior designer." Said Wendy Schechner Exec VP
Clearwater, FL (PRWEB) November 04, 2011
FabricCopia.com is a new website offering, ultra-luxurious, interior décor fabric & trimmings. In addition, they carry many eco-friendly and sustainable fabrics like Bella Dura and Kravet Green, that can also be used for upholstery, drapery, and bedding.
FabricCopia.com will only offer exclusive, distinctive fabrics that have enduring beauty and timeless style. Elegant velvets, sophisticated silks, amazing toile, chenille, batiste, beautiful linens, contemporary leathers, and elegant suede fabrics are just a few of the options that will give homes and yachts a stunning, regal feel. Interior decorators will be able to coordinate fabrics and trimmings to suit their design taste-whether it's modern, trendy, or sleek.
FabricCopia's love of fabric began a long time ago and their outstanding track record with their customers has already made them one of the world's leading fabric suppliers for outdoor décor and exterior marine applications. FabricCopia's goal is to now have the most complete listing of luxurious interior designer fabrics anywhere on the internet, including those used for yachting and hospitality commercial applications, where they will become the obvious choice for interior designers and consumers alike.
Many years ago, E Central Stores, the parent company of FabricCopia, began as an online retailer of outdoor fabrics with the Sunbrella brand as their main focus. The addition of FabricCopia.com will give them one of the largest designer collections of high end, upscale, elegant fabric and trimmings used for interior décor applications. They will feature designs by world renowned brands such as Lee Jofa, Vervain, Robert Allen, Kravet, Cole & Son, Beacon Hill, Bella Dura, Vervain, Pindler, and hundreds of others.
Additionally, they are committed to offering a large selection of green and eco-friendly fabrics. With new design approaches, they are excited to see designers offering stunning, organic fabrics that are sustainable without sacrificing style or comfort.
FabricCopia invites you to peruse their online collection of high end designer upholstery and drapery fabrics, and buy from them knowing that customer satisfaction is of utmost importance. They are committed to offering only, first quality premium fabrics from leading suppliers. With excellent communication and outstanding customer service, they feel confident that they will become the industry's leading interior décor fabric supplier.
###