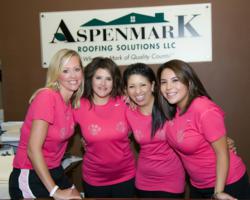 Dallas, TX (PRWEB) November 02, 2011
Aspenmark Roofing & Solar is proud to announce its participation in the Susan G. Komen 3-Day, walk for the Cure event to be held in Dallas, November 4-6. The Aspenmark Sweater Puppies is Aspenmark Roofing's four person team. The team members are Melanie Betenbaugh, Jackie Argueta, Dawn Sorna, and Carolina Carranza. The ladies are ready to set out on the three day, 60 mile race this coming weekend. Aspenmark Sweater Puppies have raised over $10,000 to join the event.
The 3-Day begins Friday morning and culminates in a victory walk and closing ceremony on Sunday evening. The event brings teams, coaches, and dedicated volunteers together to help in the fight against breast cancer. For supporters that are not participating in the walk, public cheering stations are scattered throughout the route. Go Team Sweater Puppies.
For more information about the Susan G. Komen 3-Day, For the Cure, visit http://www.the3day.org.
To see other Aspenmark Roofing and Solar projects, or to check out products and services, visit http://www.aspenmarkroofing.com or roofleakssuck.com.
###