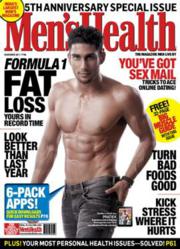 We now have only about 120 magazines out of a global number of more than 500,000 magazines, so this is very early days – India itself has 58,000 registered magazines so our prospects globally are very bright.
New York, NY (PRWEB) November 03, 2011
Following the huge success of India Today Group's digital magazines on the newest global magazine store, Magzter, they have launched their first global title "Men's Health" on the Magzter digital newsstand. India Today Group and Magzter Inc. from New York have been working closely to deliver an immersive multimedia experience for readers. India Today Group can also instantly reach its global readers – a Diaspora effect that has shown significant promise in boosting sales of their titles.
Men's Health magazine is one of the premier titles for both Rodale Inc. as well as for India Today Group and the editorial team has created a special video cover for this issue on Magzter. This would be their first video cover of a magazine from India and has been specially created for their Magzter edition.
India Today Group has complemented its digital forays by launching Apple Newsstand apps – powered by Magzter – for India Today and India Today in Tamil, both of which are grossing very well on the Apple Newsstand. In fact, the India Today Newsstand app has been the Top Grossing app as well as the #1 free app on the Apple App Store since the Newsstand launched about 2 weeks ago.
Magzter is available as a free app for iPad, iPhone, iPod Touch, Android phone, Android Tablets and directly on the web at http://www.magzter.com. The addition of Men's Health on Magzter represents recognition of how important the digital paradigm is for global publishers and is yet another milestone for Magzter. Magzter already has been one of the Top Grossing apps in the Apple App store since its launch just over 100 days ago and has signed up a plethora of regional and global titles including Grazia, Hello!, Inc., Filmfare, Femina, Business Today, etc.
Magzter's unique self-service module allows publishers to upload their magazines, add videos, audio and web links to their magazines – all in a matter of minutes. Advertisers are welcoming this as they can publish multimedia advertisements, links to their websites and Facebook pages and even TV commercials (TVCs) inside the magazines which will help boost revenues for magazine publishers.
The Facebook login feature and the Ez-read feature have made Magzter the #1 choice for magazine readers.
"There are at least 10 million new smart devices being bought every month and we now have only about 120 magazines on Magzter out of a global number of more than 500,000 magazines, so this is very early days and only the tip of the tip of the iceberg – India itself has 58,000 registered magazines so our prospects globally are very bright," said Srikanth Rajagopalan, Head of Sales (India) for Magzter.
To download Magzter for free on your Apple Devices Click Here
If you only have web access on your PC, Laptop or Mac Click Here
About Magzter Inc.:
Magzter Inc., is a New York based startup that has created a global digital and mobile magazine store and newsstand which allows publishers to easily publish to Apple and Android Devices in addition to allowing readers to check out the magazines online for those who don't have these devices. Magzter allows readers to easily buy new magazines, subscribe to them and view multimedia links and video content among other cool content. Magzter Inc. has sales offices in USA and India and is now fast expanding globally with magazines signing up with Magzter from USA, UK, Holland, China, Hong Kong, Thailand, India, Vietnam, Brazil, etc.
About The India Today Group:
The India Today Group began with a single magazine in 1975. Today it is India's most diversified media group with 36 magazines, 7 radio stations, 4 TV Channels, 1 newspaper, multiple web and mobile portals, a leading classical music label, book publishing and India's only book club. Through its subscribers, readers, viewers, surfers and listeners, the group reaches out to over 50 million individuals.
Underlying all these channels of communication is an ethos of editorial excellence and credibility. It believes in journalism, which thrives on telling it the way it is without fear or favour.
In the last 35 years, the group has evolved with its namesake. It has recorded history as well as made it. It has reflected public opinion as well as shaped it. It has shared the triumphs as well as tribulations. It has been India's strongest supporter as well as its harshest critic. It has delivered India to the world and the world to India.
About Men's Health:
Men's Health is owned by Rodale Inc., USA and has been licensed in India to the India Today Group. It is a magazine that serves as a man's guide to fitness, sex, women, workouts, weight loss, health, nutrition and muscle building. It is the world's largest selling Men's Health magazine.
###