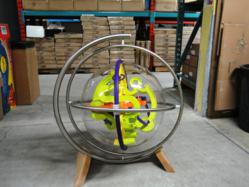 "We hope the people responsible for this theft will contact us to return it so we can return it to it Michael as soon as possible." Tim Kimber, Owner, PlaSmart Inc.
Ottawa, ON (PRWEB) November 03, 2011
In a puzzling case of international art theft, a Superplexus, a large-scale, museum-quality, hand-made, interactive sculpture created by American inventor Michael McGinnis, has gone missing. Last seen October 23rd in Essen Germany on display at the Spiel Essen 2011 Games Fair, the Superplexus was on display at global toy distributor PlaSmart Inc.'s Perplexus booth which was visited by thousands of visitors during the high-profile and highly attended, four day trade show.
The Superplexus is a giant-sized 32" diameter, display version of the award-winning toy Perplexus, the world's first 3D marble maze. There are currently only three Superplexus' in the world and each is hand-crafted by Perplexus inventor and Santa Clara Junior College professor of sculpting and 3D design, Michael McGinnis. The value of this piece is in its originality and the fact that this Superplexus was scheduled to be displayed several locations including museums and exhibitions in nine countries over the next several months.
"We are saddened and dismayed by the disappearance of one of the Superplexus'," said Tim Kimber, Owner, PlaSmart Inc. "Each of these pieces is a unique and individual piece of art that demonstrates the beauty and complexity of the elaborate labyrinths created by Michael that together we have been able to turn into a game that is enjoyed by millions. We hope the people responsible for this theft will contact us to return it so we can return it to it Michael as soon as possible."
PlaSmart Inc. reported the Superplexus as missing with the show center on Friday, October 28, 2011, after 5 days of trying to locate the Superplexus on their own. It went missing from PlaSmart's booth after hours while the show was closed and was last seen on Oct. 23rd.
PlaSmart is asking anyone with information on the location of the Superplexus to contact Messe Essen +49 (0) 201 7244 264 or PlaSmart at (613) 829-4035 ext.122 or mandy(at)plasmacar(dot)com. PlaSmart Inc. will arrange for shipping of the Superplexus from anywhere in the world, no questions asked. A reward of $1000 is also being offered for the tip that leads to finding the lost Superplexus.
About PlaSmart Inc.
PlaSmart is a global toy distributor specializing in providing fun, innovative and engaging products that bring families together. PlaSmart's products include Perplexus (Original, Rookie and Epic), the first-ever spherical 3D maze game; Orbo, the 3D sphere puzzle for children 3+; PlasmaBike, a two-wheeled, no-pedal balance bike; and PlasmaCar, the mechanical marvel powered by the cleanest and most inexhaustible energy source - kid power. Plasmart's products are available on five continents and in more than 20 countries. For more information visit http://www.plasmarttoys.com.
###