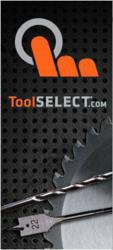 (PRWEB) November 03, 2011
ToolSelect.com started out with a mission of making it easy for users to research and find the best tool for the job. ToolSelect has expanded and improved its online community for do-it-yourselfers, construction workers and building professionals. In addition, the ToolSelect Feature Finder has been enhanced to allow searching for power tools using very specific criteria.
Visitors to the ToolSelect site can now choose to participate in community discussions and receive information from ToolSelect, including "how to" videos, access to knowledgeable experts to answer product and project questions, sharing of personal stories and tricks-of-the-trade. Tools in a user's "garage" can be accessed in the ToolSelect virtual garage, where they can also view which tools other contributors have in their garage and how they rated those tools overall. The online community also features polls, surveys, discussion boards, and demonstration/review videos.
"Our team has put together something that will change the way manufacturers and consumers communicate to each other, along with creating an atmosphere where real people can easily help each other make smarter purchasing decisions," says Tom Klein, Vice President of Marketing and Merchandising for ToolSelect.
Users who create a ToolSelect online profile or log in using their Facebook account can comment on, suggest and review tools, earning rewards. By contributing quality content (posting in discussion boards, surveys, polls, and submitting reviews) users will earn points that can be claimed for rewards. Within the coming months, those points will be able to be redeemed in the soon-to-launch ToolSelect Point Store. By sharing what they know participants will be rewarded with items useful and relevant to their industry, such as gift cards, apparel, accessories, and power tools from ToolSelect and major manufacturers.
In addition to the expanded community features, ToolSelect has also enhanced their exclusive Feature Finder. When browsing for power tools, visitors can click on the "Feature Finder" button to find tools that match their exact requirements. Each tool category has its own set of features and a list of specifications within a product category.
ToolSelect.com is an unbiased online resource for professionals and do-it-yourselfers to research power tools before they purchase. Resources and information provide a simple, one-stop-shop where a purchasing decision can be made with confidence. Manufacturing claims are combined with credible media resource reviews so only the most reliable quality information is available.
###