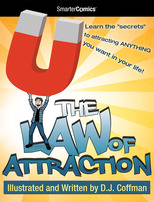 A comic book version of a popular book or idea can expand an author's reach to a larger audience.
(PRWEB) November 01, 2011
The law of attraction states that positive thinking brings about positive results, while negative thinking brings about negative results. This law of attraction is based upon a very simple idea: that thoughts can manifest into reality. While there is no concrete evidence that this is indeed a scientific law, the notion that a person attracts the very things that they think about may very well be psychological in nature. The forces behind the law of attraction may not be as important as the results that come from positive thinking.
The thoughts a person has can indeed shape their life. People who are consumed with the idea that they "need" something will constantly focus on their "need". Rather than concentrating on the problem, people should direct their attention to their goals and ultimately, a solution. This will drive the idea of "not having" to become "I can have." When people become inspired by a possibility, they are no longer hindered by limitations.
The law of attraction has inspired many best selling business books such as 'The Secret' and 'Money, and the Law of Attraction'. Now, SmarterComics has taken the fundamental principle that a person's thoughts will directly affect their path in life and created an 80 page, fully illustrated comic book based upon this theory. 'The Law of Attraction' from SmarterComics is a quick and easy way to learn the secrets behind this "law." By pairing microstyled text with images, SmarterComics has found a way to engage new generations of readers.
"A comic book version of a popular book or idea can expand an author's reach to a larger audience. We combine key elements from the original concepts with illustrations for a wholly new, shorter and visually interesting way of telling a story. This has allowed us to draw in new generations of readers," said Jenny Kunz, CTO of SmarterComics (http://smartercomics.com/).
'The Law of Attraction' from SmarterComics is a guide to readers who have the desire to attract things such as love, happiness, wealth or health. The comic-style book takes less than an hour to read, where readers will:

Learn how to sort through their doubts, their thoughts and their dreams
Understand how negative thoughts impact their life, and learn to redirect towards their goals
Begin to focus on the goal and solution as opposed to the problem, which will bring about positive changes in their life
Readers can purchase the paperback version of 'The Law of Attraction' from SmarterComics for $12.95.
Fans can purchase this book and many more at: http://smartercomics.com/TheLawOfAttraction
About SmarterComics:
SmarterComics is a technology driven publishing company based in the Silicon Valley that turns bestselling books into comic books - comics that make you smarter! The company's award winning illustrators bring talent from prestigious comic companies including Marvel and DC Comics, lending a rich graphical style to the SmarterComics library. Many of their scriptwriters and editors have won awards that are equivalent to the Oscars in the comic genre: the Eisenhower and the Harvey Awards.
###