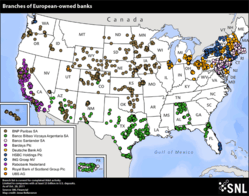 (PRWEB) November 02, 2011
With European banks facing funding pressures and capital shortfalls, it seems likely that a number of banking giants may ultimately be forced to sell assets outside of Europe, including those in the U.S., as they look to stabilize their balance sheets amid growing uncertainty in their home markets.
As eurozone developments continue to take shape, SNL Financial's latest analysis provides insight into:
*European banking divestitures to North American buyers, listing buyers, sellers and targets.
*US banks owned by European companies, assets and deposits
*Color-coded map of branches of European-owned banks throughout the US.
Full report and exclusive analysis available HERE.
###