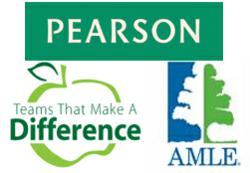 New York, NY (PRWEB) November 01, 2011
A team of educators from Chestatee Academy, a public middle school in Hall County Gainesville, Ga., is the Grand Prize winner of the annual "Teams That Make A Difference Award," sponsored by the education company Pearson and the Association for Middle Level Education. The annual award recognizes teachers, administrators, parents, and community members who work together to improve the education and well-being of adolescents.
The Chestatee Academy team won for its Project SOAR (Seeking Out Authentic Relationships) work to promote students' communication and collaboration by enabling them to take on real-world group projects that also address grade-appropriate learning standards.
Through Project SOAR, Chestatee Academy's clusters of interest-based student groups are established not based on grade level or ability but instead on common learning styles and interests. Students collect data, analyze research, and generate solutions to problems in their field or interest, creating products and services for a community audience and do this without any grades attached!
Recent student projects include

"Gray's Anatomy," through which students developed healthcare skills while dissecting frogs and fetal pigs, applying their knowledge to human systems and teaching local elementary school children;
Through "Authors and Poets," students interviewed community leaders and residents at an assisted living complex and wrote their biographies, putting these stories into books for the local library to preserve;
Students partnered with a local homeless shelter and soup kitchen as part of "Chestatee Gives Back" and "Sustainable Foods," learning about childhood hunger and developing a program to teach nutrition and help soup kitchen patrons grow their own vegetables and fruits.
"Through Project SOAR, our students are taking learning into their own hands, exploring subjects that excite them and overcoming real-world challenges through creativity and critical thinking," said Suzanne Jarrard, Principal, Chestatee Academy. "By joining together and partnering with community organizations, these students are expanding their learning far beyond the walls of a traditional classroom."
The Chestatee team will be honored and will present its winning program at the AMLE's 38th annual conference in Louisville, Kentucky, November 10-12, 2011. In addition to presenting at the annual conference, the Chestatee team will receive a $5,000 cash award from Pearson.
Pearson School Executive Vice President Emily Swenson, herself a former middle school teacher, said, "Chestatee's team achieved many vital educational goals with Project SOAR: captivating the attention of increasingly digitally minded children, addressing the needs of a diverse student body, and ensuring students increase their knowledge and improve performance. Through this program, Chestatee's students discovered the importance of giving back to their communities and learned invaluable skills that will continue to serve them throughout high school, college, and careers."
"AMLE is proud to recognize outstanding teams that demonstrate passion and commitment to reaching and teaching middle grades students. This year's award recipients have taken the critical step to engage students in real-word scenarios and help them grow as critical thinkers and problem solvers," said Dr. William Waidelich, executive director of AMLE.
Twin Valley Middle School in Pennsylvania won second place for its Raider Pride Student Advocacy Initiative, a school-wide effort focused on developing stronger peer relationships and students' self confidence with the support and guidance of an adult advocate. A team of teachers at St. Alban's City School in Vermont won honorable mention for its approach to a student-developed government that has fostered academic success and instilled a sense of belonging among students.
About the Association for Middle Level Education (AMLE)
Since its inception in 1973, the Association for Middle Level Education (AMLE), formerly National Middle School Association has been a voice for those committed to the educational and developmental needs of young adolescents. AMLE is the only national education association dedicated exclusively to those in the middle grades.
About Pearson
Pearson has as its mission to work side-by-side with states, districts, teachers, students and parents to ensure that every child is prepared for college and career (NYSE: PSO). http://www.pearsoned.com.
###