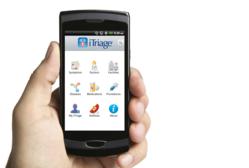 Our partnership with iTriage allows us to provide more information about the services we offer throughout East Texas and helps our patients make informed decisions about where to seek attention for their medical needs
Tyler, TX and Denver, CO (PRWEB) November 02, 2011
Mobile users have quick and easy access to symptoms, diseases and hospital information. iTriage is available as a free download through the app stores for iPhone® and Android® mobile devices, and any Internet-enabled device at http://www.iTriageHealth.com.
According to the most recent Nielsen statistics, 40 percent of mobile consumers in the U.S. now own a smartphone, with 50 percent adoption predicted by the end of 2011. This growing trend has led ETMC to reach out to mobile users in the community by providing convenient access to information about its facilities and services.
Schumacher Group, the nation's third largest emergency and hospital medicine management firm, is partnering with ETMC to bring iTriage to ETMC hospitals throughout the region. This state-of-the art technology gives East Texas residents the resources to learn more about a specific medical condition and make the most informed decision about where to seek treatment. iTriage lets users:

Research medical symptoms
Learn about possible causes and treatment options
Obtain medication information for treatment of a specific condition
Find detailed ETMC information like services, specialties, hours of operation and turn-by-turn directions
"Our partnership with iTriage allows us to provide more information about the services we offer throughout East Texas and helps our patients make informed decisions about where to seek attention for their medical needs," said Art Chance, vice president of operations for ETMC. "We are proud to offer the latest technology to our community, which reinforces our commitment to enhancing the patient experience."
"ETMC's decision to partner with iTriage speaks directly to their belief in providing cutting-edge medical care through advanced technology," said Peter Hudson, MD, iTriage co-founder. "At iTriage, we are leading the way in creating new opportunities for healthcare providers to engage with patients by using integrated mobile technology, and we look forward to working with this experienced hospital to increase patient engagement."
About iTriage, LLC
Headquartered in Denver, CO and co-founded by two emergency physicians, iTriage offers a unique Symptom-to-Provider™ pathway that empowers patients to make better healthcare decisions. iTriage helps people answer the two most common medical questions: "What condition could I have?" and "Where should I go for treatment?" Millions of consumers around the globe have downloaded iTriage on their mobile devices and thousands of healthcare providers use iTriage to reach and communicate critical facility and service information to patients. For more information, please visit http://www.iTriageHealth.com.
# # #