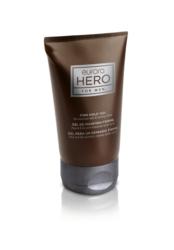 Vista, CA (PRWEB) November 08, 2011
What's worse than being the flake? Having them in your hair! Eufora HERO for Men™'s Firm Hold Gel™ offers a styling product that provides an all day hold but won't last past the shower. From work to play, this complex gel offers functionality while utilizing cutting edge technology so it won't flake and will always rinse out clean.
Not only does Firm Hold Gel hold strong and rinse clean, it helps to improve the condition of the scalp. This multi-faceted product also utilizes the fundamental blend of ingredients of the Eufora HERO for Men™ line, ProAmino Peptide Complex™. ProAmino Peptide Complex™ promotes healthy hair growth while it inhibits the production of 5-alpha reductase production, an enzyme contributing to premature hair loss. Firm Hold Gel contains no petrolatum, which means there isn't build-up to clog hair follicles, irritate the scalp or cause breakouts.
Unique Features and Benefits:
Rinses Clean: The water-soluble gel rinses clean every time. Perfect for every day use without ever causing buildup.
Shine: Firm Hold Gel helps men polish short, spikey hair or achieve "comb-in" shine highlights for longer hair.
Firm hold: Offers the traditional "hard" hold but utilizes new technology so it will never flake.
Key ingredients include:
5-alpha reductase - protects and repairs the hair follicle to help fight against slow hair loss
Panthenol (pro vitamin B5) - to strengthen hair
Amino Acid Technology - for added moisture
Coenzyme Q10 - provides powerful antioxidant benefits to protect hair and scalp from environmental damages
Neem Seed Oil - provides antibacterial benefits and scalp stimulation
Certified Organic Aloe Vera - for improved hair and scalp health
Essential Oil - for fragrance with no artificial colorants
Where to Shop: Suggested retail price is $18. For more information on where to shop, visit http://www.euforahero.com.
About Eufora
Since launching over a decade ago, Eufora has built a reputation for providing unique, top performance "People and Planet Friendly" products and is now one of North America's fastest growing salon professional brands. Eufora utilizes the most advanced botanical, vitamin and non-carcinogenic ingredients available with scientifically proven benefits to the hair, scalp and skin, as well as pure essential oils for a true aromatherapy experience. Cofounders, Don and Beth Bewley are proud to have created a company that provides products with unparalleled performance that respect the environment and your health. For more information contact 1-800-638-3672 or visit http://www.eufora.net.
###