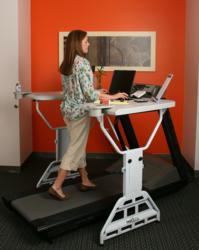 Movement levels have been proven as a better indicator of an employee's ability to avoid chronic diseases such as diabetes, stroke, cancers and heart disease than a simple measure of BMI yet they are left out of the discussion.
Scottsdale, AZ (PRWEB) November 01, 2011
Veridian Credit Union of Waterloo, Iowa recently announced that employees with health challenges such as smoking, high cholesterol or obesity will be paying more for their company provided health care in 2013 than their trimmer, healthier peers. Veridian is not alone in the move as many corporations try desperately to get a handle on spiraling health care costs. TrekDesk Treadmill Desks announced today that their wellness metrics ignore a critical health component: steps per day.
"There is a brewing argument among unions and labor about the personal responsibility of health care, which is a healthy debate," states Steve Bordley, CEO of TrekDesk Treadmill Desks. "However to believe an overweight employee is less healthy than a thinner counterpart ignores recent discoveries in the field of sedentary science. Overweight employees may be much healthier than thinner employees depending upon how much they move."
There is no ignoring the trend that shows corporations shifting an ever-increasing health care cost burden on to their employees. The National Business Group on Health expects that 40% of large to mid-sized U.S. firms will impose health care "penalties" on employees across a spectrum of conditions and behaviors. In 2009 only 8% of firms imposed these "carrot and stick" conditions.
In some cases the cause and effect are easier to determine and regulate. A smoking employee costs corporations more in health care services than a non-smoking employee. Wal-mart recently announced that beginning next year employees who choose to smoke will pay higher health premiums as a result. Sounds fair enough but trying to apply a simple measure to the issue of obesity is far more challenging.
There is no doubt that an obese employee represents a higher health risk than if they were at a healthier weight but by what measure will this be gauged? Body Mass Index (BMI) is not a sufficient indicator and body fat testing may be challenged by labor groups on a number of fronts.
TrekDesk argues that a critical component to the health monitoring/burden share issue is left out of the debate, one that may render employers culpable if left ignored. Experts in the field of "sedentary science" are showing that no amount of exercise can undo the health damage of sedentary occupations and that overweight active employees are in fact often healthier than thin sedentary employees. "A measure of employee movement must be factored into the equation and employers must allow an environment that encourages continual movement throughout the day," states Bordley. " A 'fat tax' which ignores the movement constraints imposed by the work environment is not equitable based on the science of sedentary environments."
"Movement levels have been proven a better indicator of an employee's ability to avoid chronic diseases such as diabetes, stroke, cancers and heart disease than a simple measure of BMI yet they are left out of the discussion," related Bordley, "our movement revolution is designed to bring this into the conversation."
Designed to fit any existing treadmill, TrekDesk is an affordable, full sized workstation that allows individuals the opportunity to gain the necessary amount of exercise daily to maintain health, prevent disease, strengthen muscles, boost mood and productivity, without requiring additional time during the day or extra motivation.
TrekDesk is currently available for sale online at TrekDesk.com for $479.00 including free shipping.
Join the TrekDesk "Movement Revolution" to learn more on TrekDesk's Facebook page.
###