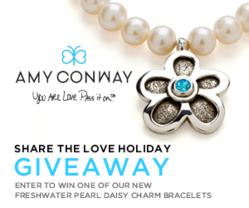 Santa Fe, NM (PRWEB) November 02, 2011
Amy Conway, designer and artist, announces an exciting promotion – The Share the Love Holiday Giveaway. Trend setters who enter the giveaway and become fans of the Amy Conway Facebook page will be entered to win an exclusive, artisan-crafted piece of jewelry from the Amy Conway Collection – the Daisy Charm Bracelet, valued at $295 dollars. Winners will be able to choose between one of three semi-precious gemstones, making this the perfect gift for either themselves or someone they love.
Part of the Magic Happens Collection, each Daisy Charm Bracelet features a soft, stretch strand of beautiful fresh water pearls with a handcrafted sterling silver charm set with one of three semi-precious gemstones – Swiss Blue Topaz, Rhodolite Garnet, or Mother of Pearl. The words "Magic Happens" – a special phrase in Conway's lexicon – is inscribed on each charm. Jewelry lovers can enter the giveaway from November 1, 2011 through December 15, 2011. On December 19, three winners will be chosen – each receiving a Daisy Charm Bracelet to brighten their holiday season.
The Magic Happens Collection features stunning, handcrafted sterling silver designs with semi-precious gemstones, including cuffs, belt buckles, pearl necklaces, earrings, and more. Every piece is inscribed with a message of love and inspiration – making it the perfect holiday gift.
Amy Conway, designer, artist, philanthropist and world traveler launched her heirloom-quality jewelry collection in 2010. Explore Amy Conway's world of passion, people, and pursuits at http://www.AmyConway.com.
###