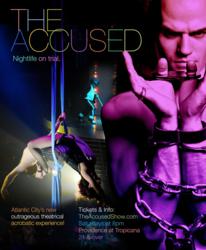 "The Accused: Nightlife on Trial stands out like a million-dollar winner at a slot machine pit. … unlike anything the town has ever seen."
Atlantic City, NJ (PRWEB) November 02, 2011
The reviews are in for The Accused Show, Atlantic City's new tantalizing, sexy and outrageous theatrical acrobatic show at the Providence Club in the Tropicana Casino and Resort. From the Press of Atlantic City to Atlantic City Weekly, show has received critical acclaim for its wildly entertaining cirque-style performances:
Ray Schweibert – Atlantic City Weekly - "… some of the most talented dancers, contortionists, acrobats and aerialists anywhere … completely unique in how it draws audience members into the plot and ties the individual acts together in an amusing way."
Chuck Darrow - Philadelphia Daily News - "The Accused: Nightlife on Trial stands out like a million-dollar winner at a slot machine pit. … unlike anything the town has ever seen."
Vincent Jackson – Press of Atlantic City -"No other nightclub in the city is doing a production like this. … Cirque-level acrobatics with a touch of theater, a bit of burlesque, and a good dose of profanity-laced humor, singing and dancing."
A scintillating show for those 21 years of age and older, The Accused Show features a rotating cast of artists and acrobats from Cirque-tacular Entertainment, the East Coast's premier creator of new American circus and variety productions.
Each week, audiences will find a new lineup of cirque and burlesque superstars as defenders accused of wild and hilarious crimes. Their night "life" hangs in the balance as they await their fate while the audience decides their guilt, innocence or punishment.
Robert Pereira, COO of Metronome Hospitality Group, as well as owner of the Providence AC and co-creator of The Accused Show, said the show's appeal lies in its up-close and personal, interactive style.
"Audience members are just feet from the stage, so they aren't just watching the show, they are fully engaged in it," Pereira said. "Crowd interaction is something we really strived for with The Accused, and we love to have that interchange between performer and audience."
The Accused Show can be seen every Saturday night at 9pm. Doors open at 8pm. Tickets are available at TheAccusedShow.com, or by calling 609-345-7800.
About the Providence Club Atlantic City
A New York-style nightclub that opened its doors in 2007, Providence, at the Quarter in the Tropicana Casino and Resort, is one of Atlantic City's greatest event spaces. The club features three bars on two levels, a state-of-the-art dance floor, sound system, plasma displays and multimedia capabilities. Venue accommodations include chic furniture, wrap-around balcony, custom catering and two elevated DJ towers. Providence offers a perfect setting for bachelor(ette) parties, private parties, corporate events and other group outings in the Atlantic City area.
# # #