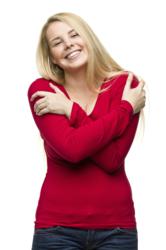 Psychological flexibility helps people develop and maintain healthy habits by loosening up their habitual responses
Wheat Ridge, CO (PRWEB) November 03, 2011
The team at Wellness Now, a non-profit wellness program in Wheat Ridge, CO, has discovered the secret to lasting personal change: psychological flexibility.
Kathy Baur, Ph.D., Wellness Clinician at WellnessNow explains how learning psychological flexibility helps people replace habitual responses, like stress eating and smoking, with healthy, more effective behaviors.
Much like the way people stretch the body to gain greater physical flexibility, a person can train the mind to be flexible too. Psychological flexibility is the ability to respond to the events in life, based on what's happening at that very moment, not through the filter of the past. Although people may not realize it, many unconscious avoidance behaviors are learned as a child, these later become hard-wired in adulthood. Unfortunately, much of this hidden programming can be damaging to physical and psychological health. "Learning psychological flexibility helps people develop and maintain healthy habits by loosening up habitual responses, like stress eating, smoking, watching TV, so a person can develop a more effective repertoire of behaviors," says Baur.
To be psychologically inflexible is to exhibit inflexible behaviors, such as a knee-jerk reaction that consistently keeps a person trapped in problematic patterns. Baur explains, "Ask yourself how many times you have run away out of fear or you've shouted back at someone when they said something unkind. Very often inflexible behaviors are an attempt to avoid feelings of discomfort. A classic example of an inflexible behavior could be comfort eating. When we feel overwhelmed or depressed, many of us use food as a way to avoid our true feelings. We resort to shutting ourselves away from the outside world, sitting on the couch and eating the wrong foods. Weight gain continues as they habitually use food and isolation as a way of avoiding their feelings."
Fear not though, it is possible to learn new "flexible" behaviors to help better manage life. The knowledgeable team at Wellness Now offers support and education through a wide variety of free wellness classes that use Acceptance and Commitment Therapy (ACT) as a tool for achieving psychological flexibility. ACT takes a uniquely direct approach in helping participants tackle problematic thoughts and feelings head on, a necessary step in developing the skills needed to achieve even the toughest personal goals.
The Fall 2011 class catalog available at http://www.wellnessnowjcmh.org, offers the following workshops geared specifically towards emotional wellness that teaches participants psychological flexibility. All of these classes are open to the community and completely free of charge:
Weight Loss: Taming the Insatiable Appetite
Thursdays, 10:00-11:00am
November 3, 10, 17, December 1, 8, 15
Nathan Gates, MA, LPC
Wellness Now – 4045 Wadsworth Blvd, Suite 80, Wheat Ridge, CO 80033
Emotional Wellness Workshop: Values Based Living
Wednesday, 9:00-11:00am
November 16th
Nathan Gates, MA, LPC
Kathy Baur, Ph.D.
Wellness Now – 4045 Wadsworth Blvd, Suite 80, Wheat Ridge, CO 80033
Taming the Anxious Mind
Wednesdays, 2:30-4:00pm
Ongoing
Kathy Baur, Ph.D.
Wellness Now – 4045 Wadsworth Blvd, Suite 80, Wheat Ridge, CO 80033
Anyone in the Colorado community who can benefit from the guidance of the WellnessNow team is encouraged to visit http://www.wellnessnowjcmh.org/ to order or download the class catalog. For more individualized help, personal life coaching sessions are also available.
Contact Information:
Email: mark(at)jcmh(dot)org
Telephone: (303) 423-2261
Director: Mark Jones
Wellness Now - 4045 Wadsworth Boulevard, Suite 20
Wheat Ridge, CO 80033
http://www.wellnessnowjcmh.org/
###