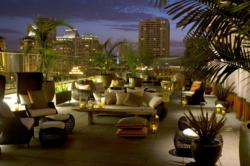 "Social events intended for guests and neighbors to discover the downtown San Diego hotel's creative culture"
San Diego, CA (PRWEB) November 02, 2011
Andaz San Diego recently debuted its signature Andaz Salon, a monthly series of inspiring social events intended for guests and 'neighbors' to discover the downtown San Diego hotel's creative culture. To kick off the series, Andaz is hosting a wine pairing class event in the popular Ivy Wine Bar to tap into San Diego's local wine culture and culinary artisans.
Wine Smarties sommelier and expert host, Lindsay Pomeroy, will lead guests in a spirited demonstration of wine pairings in the next series to take place on Tuesday, October 4, from 6:30 to 8 p.m. in the Ivy Wine Bar. Pomeroy has teamed up with San Diego's prominent cheese experts to help guests learn which delicacies best complement four distinctive glasses of wine.
"We created the Andaz Salon to engage our guests and locals in an interesting, educational experience that reflects our personal culture," said Rachael Giannecchini, marketing manager of Andaz. "We hope our guests leave the event feeling as though they have taken part in something special."
For each event, Andaz will gather some of San Diego's 'movers and shakers' to attend to collect their thoughts and impressions of the overall experience. These local influencers will share their experience via the Andaz Living Guest Book, a virtual salon hosted on the Gaslamp Quarter hotel's Facebook page, which is designed to connect and inspire creativity digitally.
Each of the five Andaz hotels around the world has launched the Andaz Salon series focusing on culinary, wine, art and music reflecting the hotel's creative landscape. From wine and cheese immersions, to art exhibits, local music performances and culinary demonstrations, guests will have the opportunity to interact with leading cultural arbiters, learn something new and spark their own personal creativity.
For more information about the Andaz Salon or to attend an event, visit the Andaz San Diego Facebook page.
About Andaz San Diego
Andaz San Diego is an urban escape known for friendly and uncomplicated service, sophisticated design and unpretentious style. Located in the heart of the Gaslamp Quarter, the cornerstone of the property is a 159 room hotel with 17 suites, each with custom fixtures and amenities, flat panel televisions and generously sized glass-enclosed bathrooms. Guests can enjoy complimentary welcome beverages while being checked in via handheld PC as well as complimentary amenities such as wireless Internet, local phone calls, and a mini-bar with non-alcoholic beverages and snacks. A center of dining and nightlife, Andaz San Diego also offers the Ivy Entertainment experience including the Ivy Nightclub, Ivy Wine Bar and Ivy Rooftop, a sultry rooftop bar and lounge with stunning skyline views, pool and private cabanas. Additional amenities include the Quarter Kitchen restaurant and 10,000 square feet of flexible meeting and function space. For more information about Andaz San Diego, visit http://www.andazsandiego.com or call 619-849-1234.
###