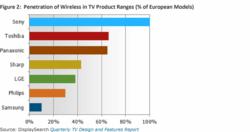 "The products shown at IFA Berlin this September demonstrate how networking is becoming a core feature of TVs," said Paul Gray, DisplaySearch Director of TV Electronics Research. "The idea of TVs and companion screens is a powerful value proposition..."
Santa Clara, Calif. (PRWEB) November 02, 2011
In 2011, more than 27% of TVs shipped worldwide will be able to connect to a network, a figure that is expected to rise 54% to 155 million by 2015, according to the Q3'11 DisplaySearch Quarterly TV Design and Features Report. In addition, 16% of TVs shipping in Latin America in 2011 will be network-capable.
"The products shown at IFA Berlin this September demonstrate how networking is becoming a core feature of TVs," said Paul Gray, DisplaySearch Director of TV Electronics Research. "The idea of TVs and companion screens is a powerful value proposition, both for selling smart phones and tablets that communicate with the TV, but also for mobile services to be enjoyed on the best screen."
The latest generation of TV semiconductors, combined with digital broadcasting, is providing a fertile platform for rapid innovation in TV, in both mature and emerging markets.
At the same time, the TV semiconductor business is struggling with the problems of hyper-competition. Consolidation is still playing out, including the rise of MStar Semi and Mediatek. TV manufacturers are restructuring their business models following losses in the first half of 2011. In addition, new lower cost LCD panel technology using LED backlights, shifts to out-sourcing, and new set designs are being investigated.
Integration and innovation in semiconductors is powering new capabilities, with networking emerging as an important new function. Consumer research suggests that the connection rate of TVs doubles when they have a wireless networking capability. TV manufacturers are responding and analysis of product ranges shown at IFA Berlin reveals how far wireless is filling product ranges.
"Consumer wishes are very clear – no new wires," said Gray. "The incorporation of wireless allows more than just networking, with powerful ad-hoc functions such as transfer of photos and video from a smart phone to a TV using Wireless Direct, or a program guide to be navigated without interrupting viewing."
At the same time, TV IC innovation is not just extra featuring; it is enabling a re-shaping of the TV value chain. With TV manufacturers re-structuring their value chains, the latest TV ICs enable them to assemble sets from 'open cell' LCDs instead of buying complete LCD modules. One of the key enabling technologies is integration of the LCD timing controller into the main TV chip. This is examined in detail in the report.
"IC innovation is not just about decorating sets with extra featuring, but enables set makers to slim down their manufacturing," added Gray.
The DisplaySearch Quarterly TV Design and Features Report is a quarterly update of the issues and rapid shifts in TV feature developments. The 250+ page report examines and forecasts video processor and signal processing IC market development, including 120/100 and 200/240 Hz frame rates as well as market shares for major IC vendors. In addition, the report also features forecasting for MPEG-4 decoding and the digital broadcast environment around the world, including a forecast for DVB-T2; TV connectivity, such as wired and wireless networked TVs; LED backlighting; 3D-capability and implementation; remote controls and chassis design; and power consumption.
For more information on this report, please contact Charles Camaroto at 1.888.436.7673 or 1.516.625.2452, or contact(at)displaysearch(dot)com or contact your regional DisplaySearch office in China, Japan, Korea or Taiwan.
About DisplaySearch
Since 1996, DisplaySearch has been recognized as a leading global market research and consulting firm specializing in the display supply chain, as well as the emerging photovoltaic/solar cell industries. DisplaySearch provides trend information, forecasts and analyses developed by a global team of experienced analysts with extensive industry knowledge. In collaboration with The NPD Group, its parent company, DisplaySearch uniquely offers a true end-to-end view of the display supply chain from materials and components to shipments of electronic devices with displays to sales of major consumer and commercial channels. For more information on DisplaySearch analysts, reports and industry events, visit us at http://www.displaysearch.com. Read our blog at http://www.displaysearchblog.com and follow us on Twitter at @DisplaySearch.
About The NPD Group, Inc.
The NPD Group is the leading provider of reliable and comprehensive consumer and retail information for a wide range of industries. Today, more than 1,800 manufacturers, retailers, and service companies rely on NPD to help them drive critical business decisions at the global, national, and local market levels. NPD helps our clients to identify new business opportunities and guide product development, marketing, sales, merchandising, and other functions. Information is available for the following industry sectors: automotive, beauty, commercial technology, consumer technology, entertainment, fashion, food and beverage, foodservice, home, office supplies, software, sports, toys, and wireless. For more information, contact us or visit http://www.npd.com and http://www.npdgroupblog.com. Follow us on Twitter at @npdtech and @npdgroup.
Media Contact:
Stacey Voorhees-Harmon
SAVVY Public Relations
Phone: 925-336-9592
E-mail: media(at)displaysearch(dot)com
###