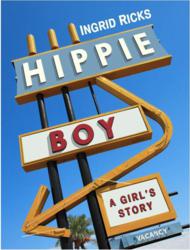 Hippie Boy isn't just about escaping an oppressive Mormon home life and suffocating poverty. It's about navigating a wild, rocky ride through childhood and adolescence and making it through on top.
Seattle, WA (PRWEB) November 02, 2011
What would you do if your Mormon stepfather tried to cast Satan out of you? For thirteen-year-old Ingrid, the answer is simple: Run.
Hippie Boy: A Girl's Story, a compelling new memoir by Seattle-based writer Ingrid Ricks, tells the story of a feisty young girl desperate to escape the extreme religion and poverty she endures at her home in Northern Utah. For years Ingrid begs her free-wheeling dad to let her join him on the road as a tool-selling vagabond so she can be free of her suffocating home life. When her devout Mormon mother marries Earl―a homeless Vietnam vet who exploits the religion's male-dominated culture to oppress and abuse her family―she finally gets her wish.
Ingrid spends the next few summers living on the margins while hustling tools throughout the Midwest with her dad and his slimy, revolving sales crew. He becomes her lifeline and escape from Earl. But when her dad is arrested, she learns the lesson that will change her life: she can't look to others to save her; she has to save herself.
Ricks, an experienced journalist and essay writer whose stories have been published in Salon, Ladies' Home Journal, The Seattle Times and other publications, says she wrote the memoir in part to shine the spotlight on the damage that can occur when a religion gives men complete dominance over women and children.
"I wanted to show how a religious and cultural climate that gives men absolute power over their wives and children can have devastating consequences―and at the same time speak for women and children out there who currently don't feel like they have a voice," says Ricks. "I'm not suggesting that everyone who is given power will exploit that power. But ultimate power sets up an environment for abuse. "
Ricks, who as an adult is battling Retinitis Pigmentosa, a devastating degenerative eye disease that first steals a person's night vision, then robs them of their peripheral vision, then usually takes what's left, says that the overall message in Hippie Boy is one of hope and resilience.
"Hippie Boy isn't just about escaping an oppressive Mormon home life and suffocating poverty. It's about navigating a wild, rocky ride through childhood and adolescence and making it through on top," notes Ricks. "It's about discovering that whatever adversity or challenge you face in life, you have the power within yourself to overcome it. And once you discover that power, nothing can stop you from obtaining the life you want for yourself."
About Ingrid Ricks
Ingrid Ricks is a Seattle-based writer and speaker who focuses on embracing life and living each moment to the fullest. Hippie Boy, a Girl's Story is available as an ebook for $2.99 on Amazon and BN.com Paperback copies can currently be purchased at http://www.hippieboybook.com and will soon be available on Amazon and other online retailers. For more information, please visit http://www.ingridricks.com. For author interviews or review copies, please call 425-281-041 or email: ingridricks(at)ymail(dot)com
###