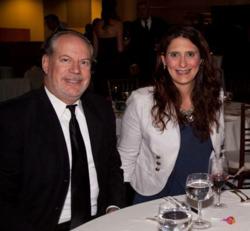 Tucson, AZ (PRWEB) November 02, 2011
SynCardia Systems, Inc. (http://www.syncardia.com), manufacturer of the SynCardia temporary Total Artificial Heart, announced today that it has been inducted into the World Technology Network (WTN) as a new Corporate Member. Membership can only occur through the annual Awards process, in which individuals and companies are selected via the judgment of the current WTN Fellows. SynCardia was selected as one of 6 finalists for the 2011 World Technology Award in Health & Medicine, presented in association with TIME, Fortune, CNN, Science/AAAS and Technology Review.
"SynCardia is very privileged to join this elite group of individuals and companies bringing important emerging technologies across the finish line throughout 20 different industries worldwide," said Michael Garippa, SynCardia CEO/President.
SynCardia was nominated for designing, developing and introducing the Freedom® portable driver, the first wearable power supply for the world's only FDA, Health Canada and CE approved Total Artificial Heart. For the first time in U.S. history, stable patients without human hearts are leaving the hospital to wait for a matching donor heart at home. The Freedom driver is CE approved for use in Europe and undergoing an FDA-approved Investigational Device Exemption (IDE) clinical study in the U.S.
Prior to the development of the 13.5 pound Freedom driver, U.S. Total Artificial Heart patients were confined to the hospital for months, sometimes years while they waited for a transplant because the only FDA-approved driver, "Big Blue," is hospital-based and weighs 418 pounds.
WTN is a global meeting ground, a virtual think tank, and an elite club whose members are all focused on the business and science of bringing important emerging technologies of all types (from biotech to new materials, from IT to new energy sources) into reality. Membership is composed of more than 1000 scientists, entrepreneurs, financiers, journalists, academics, policymakers, etc., and more than 200 organizations/companies.
CAUTION – The Freedom® portable driver is an investigational device, limited by United States law to investigational use.
About the SynCardia temporary Total Artificial Heart
SynCardia Systems, Inc. (Tucson, AZ) is the privately-held manufacturer of the world's first and only FDA, Health Canada and CE approved Total Artificial Heart. Originally used as a permanent replacement heart, the Total is currently approved as a bridge to transplant for people dying from end-stage heart failure affecting both sides of the heart (biventricular failure). More than 950 implants account for more than 230 patient years of life.
Similar to a heart transplant, SynCardia's Total Artificial Heart replaces both failing heart ventricles and the four heart valves. It is the only device that eliminates the symptoms and source of end-stage biventricular heart failure and pumps up to 9.5 liters per minute through both ventricles. This high volume of safe blood flow helps speed the recovery of vital organs, helping make the patient a better transplant candidate.
Fast Company ranked SynCardia#20 among the World's 50 Most Innovative Companies "for giving mobility to artificial heart recipients."
SynCardia on Facebook
Twitter: @SynCardia
SynCardia on LinkedIn
###