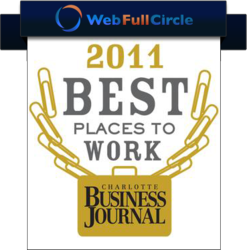 Charlotte, NC (PRWEB) November 02, 2011
Website Design and SEO Company, Web Full Circle, is honored to announce their selection in 2011 as one of the "Best Places to Work" by the Charlotte Business Journal. Web Full Circle strives to give their team members a fun and comfortable work environment that inspires collaboration and are pleased to receive a nomination that exemplifies that.
Web Full Circle provides for their employees a great work atmosphere by coordinating a number of activities and events that allow their team members to look forward to spending time together. In-office they participate in holiday theme parties, and celebrate birthdays and team success. Outside of the office they plan monthly team events such as trips to the National Whitewater Center, paintball games and team dinners. The team also participates in various recreation leagues and takes advantage of a company wide gym membership. When there is a moment of spare time to relax members of the team can be found paying a variety of XBOX tournaments.
Another element that team members enjoy as part of their work routine is that Web Full Circle gives back to the community. They are annual participants in events such as Komen Race for the Cure and this year raised over $1,000 towards breast cancer research. To further support Komen they created a team video promoting the race and their "training" for the event. Web Full Circle also gives back by donating their time and services to many local organizations such as The Arc of Mecklenburg County, Youth Homes, International House, Anuvia, and Lift Up Foundation. They also give educational seminars to help small businesses learn more about internet marketing and how to grow their business online.
To honor their rank as a "Best Place to Work" in Charlotte, Web Full Circle will be attending a luncheon hosted by the Charlotte Business Journal on November 4th.
For more information about Web Full Circle, please visit Web Full Circle or call (980) 322-0518.
About Web Full Circle:
Web Full Circle is Website Design and SEO Company that specializes in developing websites that generate leads for companies. Our team of Internet consultants and SEO experts develop solutions that are customized around companies' online marketing goals. Web Full Circle is located at 207 Regency Executive Park Dr., Suite #150, Charlotte, NC 28217.
###