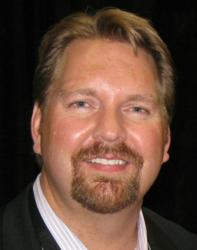 An effective mixture of Social Media Marketing, Search Engine Optimization, and Content Marketing can help companies attract and retain customers.
Los Angeles, CA (PRWEB) November 03, 2011
During the month of November, thousands of marketers from Los Angeles to New York to Chicago will learn from TopRank Online Marketing CEO, Lee Odden how to grow more sales and keep more customers with Social Media Marketing, Search Engine Optimization and Content Marketing.
TopRank® Online Marketing is a leading Internet marketing agency specializing in online customer acquisition and engagement services for start-ups to Fortune 50 companies. A recognized thought leader in Online Marketing, TopRank CEO Lee Odden has been selected to speak at BlogWorld & New Media Expo in Los Angeles, ad:tech in New York, and Search Engine Strategies (SES) in Chicago.
"I've spoken to hundreds of companies over the past 5 years and they all have the same problem: How to develop an online marketing strategy that helps win and retain new customers?", stated Odden. "The presentations I'm giving on Search, Social Media and Content Marketing in New York, Los Angeles and Chicago will provide both the strategic and tactical advice that will help businesses get on the right track with their Internet marketing."
According to industry source Econsultancy, 57% of company blogs have acquired customers through blogging and 80% of B2C companies have acquired a customer through Facebook. The rapidly evolving nature of the search and social web combined with an increasingly competitive marketplace is driving marketers to events like SES, ad:tech and BlogWorld to better understand how to stay on top of current and emerging Internet Marketing tactics.
BlogWorld & New Media Expo, Los Angeles
Optimize & Socialize Your Way to Better Blogging
Los Angeles, CA
Saturday November 5th, 2011 - 12:15pm
At BlogWorld Los Angeles, Odden will give a solo presentation, Optimize and Socialize for Better Business Blogging. Attendees will hear practicals tips and tactics on planning for content, extending your search and visibility, as well as promoting content that inspires sharing, link building, and search traffic.
ad:tech New York
Marketing Masters: Search Marketing Track
Thursday November 10th, 2011 - 10:15am-12:30pm
TopRank CEO Lee Odden has been tapped to program and speak on the Search Marketing Masters track at ad:tech New York. Sessions will focus on the integration of paid search as well as SEO cases and best practices. These sessions have many takeaways for attendees including insight into search integration strategies, PPC best practices, tools for integrated online marketing, cutting edge best practices for improving usability optimization, and proper application of content and keywords.
SES Chicago
The Convergence of Search, Social, and Content Marketing:
Wednesday November 16th, 2011 - 11:15am
SEO Competitive Analysis:
Thursday November 17th, 2011 - 12:15pm
Content Marketing Optimization:
Thursday November 17th, 2011 - 1:30pm
SES Chicago provides an opportunity for the audience to get some very sound guidance from a variety of internet marketing professionals including TopRank Online Marketing CEO Lee Odden. He will be sharing tactics on optimizing website and social content for incresed visibility and customer engagement. This is a must attend session for anyone involved in Internet Marketing.
To access great content optimization advice immediately please download our guide: Attract and Engage New Customers Online
About TopRank® Online Marketing
TopRank® Online Marketing is a Minneapolis, Minnesota based digital marketing agency serving Fortune 1000 companies with customer acquisition and engagement consulting services including strategic consulting, implementation and training, search engine marketing, social media, and content marketing. TopRank has been cited in numerous books and industry blogs as well as U.S. News & World Report, Fortune and The Economist for internet marketing expertise. A crucial part of its own content marketing strategy, TopRank's Online Marketing Blog has been recognized as the #1 Content Marketing Blog by Junta42 three times and the #2 Social Media Marketing Blog by Social Media Examiner.
TopRank CEO Lee Odden is the author of "Optimize: How to Attract and Engage More Customers by Integrating SEO, Social Media and Content Marketing" to be published by Wiley in 2012. Odden has been recognized for his expertise with enterprise social media, SEO and content marketing strategies by The Economist and Advertising Age and he writes a monthly column on social media for ClickZ. His TopRankBlog.com has over 46,000 subscribers, 11,000 Facebook Fans and is the only blog rated the #1 Content Marketing blog 3 times by Junta42. Odden regularly presents at marketing & PR conferences worldwide.
TopRank Online Marketing Web Site: http://www.toprankmarketing.com
TopRank's Online Marketing Blog: http://www.toprankblog.com
TopRank on Twitter: http://twitter.com/toprank
###