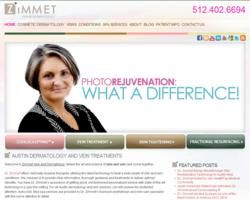 A click isn't a client, and it's about time doctors and practice managers understand that so they are no longer taken by false promises of business increases based on shear number of visitors, regardless of the quality of each individual visitor
Austin, Texas (PRWEB) November 03, 2011
CEO and Founder of Austin TX based marketing firm, Fahrenheit Marketing, Ricardo Casas will be a keynote speaker at this year's American College of Phlebology (ACP) Congress. On November 4th and 5th he will be discussing a number of topics pertaining to internet marketing and its potential benefits for medical practices including brand equity, search engine placement through organic optimization, sponsored advertising, as well as conversion management. "A click isn't a client, and it's about time doctors and practice managers understand that so they are no longer taken by false promises of business increases based on shear number of visitors, regardless of the quality of each individual visitor" explains Mr. Casas concerning search engine optimization.
Advertising and marketing have changed over the years. No longer are print publications the dominant force they once were. Web marketing has become the new giant in the advertising business replacing various other, now dying media including radio, TV, magazines, and newspapers. "Targeted advertising is a much more cost effective way of harnessing new business. We live in the age of XM radio and TIVO boxes where people choose what they want to watch and listen to. People are not interested in watching commercials unless they realize the need they have for a given product or service" explains Mr. Casas concerning traditional media advertising. Ricardo will discuss the various benefits and potential pitfalls surrounding web marketing, and what medical professionals can do to use these tools to their advantage.
In early fall 2010; Fahrenheit Marketing became the agency of record for Dr. Steven E. Zimmet's Texas based practice, Skin-Vein.com. Fahrenheit's mission was to increase brand awareness, website traffic, and conversions, effectively boosting overall brand equity. From December 2010 to August 2011, Fahrenheit Marketing was able to increase total visits by nearly 80%.
Additionally, the monthly traffic for that same period of time increased over 130%. Dr. Zimmet and his practice are thrilled by this success, and are excited to see the numbers continue to rise.
Advanced registration for this event is now closed, but on-site registration is still available (http://acpcongress.org/registration-2). If you have any additional questions or concerns, please consult the ACP's website here - (http://acpcongress.org/)
About Fahrenheit Marketing:
Fahrenheit Marketing is a full service interactive agency focused on web and mobile development, search engine visibility, and conversion management. Bringing together a talented team of seasoned professionals, Fahrenheit approaches interactive marketing and user experience on a proactively evolving and comprehensive basis.
Leveraging the innovative power of the most sophisticated emerging tools and technologies available facilitates deep insight into how clients' marketing goals can most successfully and quickly be reached. Using the insight afforded by carefully measured, granular analysis, Fahrenheit Marketing maximizes return on investment and greatly increases brand visibility.
If you would like to learn more about Fahrenheit Marketing, or are interested in becoming a client, you can contact their office by phone at (512-206-4220) or e-mail at info(at)fahrenheitmarketing(dot)com.
###