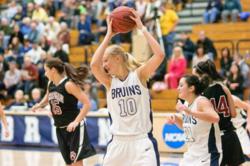 Newberg, OR (PRWEB) November 02, 2011
With 13 returning letter winners, including all five starters – two of whom are preseason All-Americans – the George Fox University Bruins are ranked No. 3 in the nation in the 2011-12 NCAA Division III Women's Basketball poll as selected by a panel of 25 coaches, sports information directors, and media members for D3hoops.com.
The Bruins, 25-6 last year, received three votes for first place and 541 points in all. Defending national-champion Amherst College (32-1) was first with 13 firsts and 593 points, followed closely by the University of Chicago (25-4) with seven firsts and 590 points. William Paterson College (26-4) got two firsts and 494 points to place fourth. Amherst has three starters back, while the other three all have five starters returning and two players each on the D3hoops first, second, third or fourth preseason All-America teams.
The No. 3 ranking is the highest preseason position ever for the Bruins. The 2009-10 team was ranked fourth prior to last season by D3hoops and fifth by the Women's Basketball Coaches Association following a 32-0 record and the D-III national championship in 2008-09.
George Fox is coming off an outstanding 2010-11 season under first-year coach Michael Meek, who took over when 14-year mentor Scott Rueck left for his alma mater, Oregon State. The Bruins posted their 18th straight winning season, won their fifth straight Northwest Conference championship (shared with Lewis & Clark College at 14-2), captured the NWC tournament title, and reached the "Elite 8" round of the NCAA National Tournament for the third year in a row. George Fox was ranked sixth in the final USA Today/ESPN/WBCA national poll, and 12th in the final D3hoops.com poll.
This year's Bruins will build around 6-foot-5 junior center Hannah Munger and 5-10 senior wing Keisha Gordon, who were named to the D3hoops preseason All-America second and third teams, respectively. Both were All-NWC first-team selections, while Munger went on to be named a third-team All-American and West Region Player of the Year, and Gordon earned a second-team all-region honor.
Also back in the starting lineup for one of the top college women's basketball programs in Oregon are honorable mention all-conference senior wing Arianna Mohsenian, sophomore point guard Hayley Cusick, and sophomore forward Megan Arnoldy. Four seniors remain from the 2008-09 national title team, including Gordon, Mohsenian, center Breezy Rinehart-Young and wing Carrie Myers.
George Fox opens the regular season at home against Corban University on Tuesday, Nov. 15, at 7 p.m.
George Fox University is ranked by Forbes and Kiplinger's among the top Christian colleges in the country and is a Christian university classified by U.S. News & World Report as a first tier regional university and a "Best Value" school. More than 3,500 students attend classes on the university's campus in Newberg, Ore., and at teaching centers in Portland, Salem, and Redmond, Ore., and Boise, Idaho. George Fox offers bachelor's degrees in more than 40 majors, degree-completion programs for working adults, five seminary degrees, and 11 master's and doctoral degrees.
Contact:
Blair Cash
Sports Information Director, George Fox University
503-554-2926
# # #