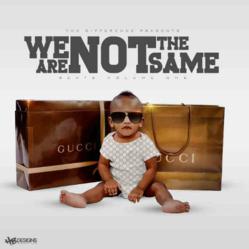 Miami, FL (PRWEB) November 02, 2011
Production duo The Difference recently released their mixtape "We Are Not The Same: Beats, Vol. 1" Presented in association with Coast 2 Coast Mixtapes, the project is available at http://coast2coastmixtapes.com for free download. "We Are Not The Same" is a collection of instrumental tracks produced exclusively by The Difference, and features Big Rube of Dungeon Family performing inspiring spoken word on the opening and closing tracks. The mixtape also features performances by world-class drummer Steve Hass on a handful of tracks.
The Difference is a new production team made up of Adam Gurr (29, Atlanta, GA) and Carlton Douglas (24, San Antonia, TX). The two have been producing underground talent and branding themselves as modern super producers. The Difference doesn't simply make beats. They are songwriters, engineers, and composers. They challenge artists to go outside of their boundaries to create fresh, exciting sounds.
Adam and Carlton met through soul singer Ishmael Herring. Carlton and Ish worked as street musicians in Hollywood. Ish brought Carlton to Adam's studio as a session player, but he left as co-producer. The Difference was born. Shortly after, the two opened up Danger City Studios in North Hollywood, CA where The Difference continues to push the mold of every genre. Carlton and Adam make a great team because they are polar opposites. Carlton studied at Berklee College of music in Boston. His offbeat nature and ear for melody are creative forces in the studio. Adam learns from the experiences he has gained in his travels to nearly 50 countries and his 10,000 hours in the studio. The two together create a sound that combines hip hop with live instrumentation, jazz, electro, pop, and film music. For more information, go to http://www.wethedifference.com
"We Are Not The Same: Beats, Vol. 1" is a collection of futuristic bangers, street anthems, and organic hip-hop and is the first installment of a three part series. Be looking for "Beats, Vol. 2 Hooks Edition" (instrumentals with hooks). The sound ranges from classic 808s and chopped and screwed vocals to ukulele and African drumbeats.
"We Are Not The Same: Beats, Vol 1" is available for free streaming and download at http://coast2coastmixtapes.com/mixtapes/mixtapedetail.aspx/the-difference-we-are-not-the-same-beats-vol-1
###