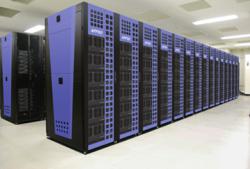 "The Appro Xtreme-X Supercomputer combines the latest cutting-edge technologies with an optimized high performance computing architecture," said Giri Chukkapalli, CTO of Appro.
Milpitas, CA (PRWEB) November 02, 2011
Appro (http://www.appro.com), a leading provider of supercomputing solutions, today announced plans to reveal its next generation; Appro Xtreme-X™ Supercomputer based on the upcoming AMD "Interlagos" processor and the Future Intel® Xeon® processor E5 Family to address critical HPC workload configurations such as capacity, hybrid, data intensive and capability computing. Appro plans to showcase the new Xtreme-X Supercomputer at SC11 in Seattle - November 14-17. System demonstrations and end-user best practice session will be presented at the Appro booth #2312.
The new Appro Xtreme-X Supercomputer is based on industry standard optimized server platforms featuring high compute density, increased performance/watt, multiple high performance network connectivity, I/O and disk options with choice of the latest processor technologies along with specialized professional services for medium and large-scale deployments. It will support 2 and 4 socket platforms based on the future Intel® Xeon® processor E5 Family with design support from Intel's forthcoming 'Many Integrated Core' (MIC) and the new AMD "Interlagos" processor. It will also offer a combination of CPU/GPU configuration options with NVIDIA® Tesla™ computing. For networking configurations, Appro Xtreme-X offers Fat Tree or 3D Torus with single or dual rail, Ethernet or InfiniBand with QDR or FDR configurations. The system will provide significant savings in power consumption through the intelligent design of the platform featuring 208Vor 480V platinum-rated power supplies and high-efficient fans with integrated console management server. In addition, it will utilize liquid cooling solution and system configuration options for a mix of data centers architecture requirements.
The Appro Xtreme-X Supercomputer is also tightly integrated with the Appro HPC Software Stack providing a supported version of the Grid Engine Batch Scheduler compatible with most open source and commercial compilers, tools, schedulers, and libraries. The Appro Cluster Enginetm (ACE) management suite is part of the Appro software stack and is designed to eliminate the complexity of managing HPC clusters while providing all of the necessary tools to run complex applications. ACE offers server, cluster, storage and network management features combined with job scheduling, failover, load balancing and revision control capabilities with multiple Linux OS support.
This robust and scalable supercomputer supports multiple workload configurations:
Appro Xtreme-X for capacity computing is designed for terascale and petascale configurations with integrated Lustre™ File System and low-power components. It offers best performance per dollar for many applications and excellent memory capacity per FLOP. This is the ideal design for maximizing throughput for diverse workloads often involving many simultaneous users and applications.
Appro Xtreme-X for hybrid computing offers CPU/GPU processing or accelerator configuration technology options per node. This is the ideal design for applications that are highly parallel, addressing a rapidly growing number of accelerator optimized applications.
Appro Xtreme-X for data intensive computing is designed to support applications requiring petabytes of storage with millions of I/O operations per second. This design is built specifically for large-scale data analysis providing high levels of performance, reliability, efficiency, and availability. The system architecture features extreme bandwidths between memory, large memory nodes, the use of SMP technologies to form extreme-scale global storage based on Lustre™, multiple levels of storage hierarchy using fast disks, SSDs, PCI-attached flash, and other storage mediums as cache to improve performance. This is the ideal design for "Big Data" parallel computing applications to process, manage and analyze large volumes of data.
Appro Xtreme-X for capability computing is designed for petascale and often deployed in terascale configurations with critical fault tolerant system management capability to offer higher availability. It features high bandwidth between disk and memory with sustained floating point performance and failover capabilities for production environments at a lower TCO. This is the ideal design for demanding computational tasks that require efficient utilization of the whole system for long periods of time.
"The Appro Next Generation Xtreme-X Supercomputer is designed to address critical HPC workloads in the HPC market which is growing by over 7% a year. Appro aims its product design to address critical customer requirements including system optimization; cutting-edge technologies; enhanced system management; cooling technologies and the all-important price/performance to support medium to large-scale cluster environments," said Earl Joseph, HPC program vice president, IDC.
"The Appro Xtreme-X combines the latest cutting-edge technologies with an optimized high performance computing architecture," said Giri Chukkapalli, CTO of Appro. "This combination delivers outstanding performance, scalability, availability, and manageability based on a high-bandwidth and low-latency infrastructure required for today's HPC workload production requirements."
Together with the launch of the new Appro Xtreme-X Supercomputer, Appro is enhancing its support and services by providing a knowledgeable and dedicated HPC professional service team to oversee the complete system integration, delivery and on-site installation. The next generation Appro Xtreme-X will be available in early Q4/2011. Pricing information may vary by system configuration.
About Appro
Appro is a leading developer of innovative supercomputing solutions. Appro is uniquely positioned to support High-Performance Computing (HPC) markets focusing on medium to large-scale deployments where lower total cost of ownership is essential. Appro accelerates technical applications and business results through outstanding price/performance, power efficient and fast time-to-market solutions based on the latest open standards technologies, innovative cluster tools and management software packaged with HPC professional services and support.
Appro supercomputing solutions enables scientists and engineers to use data-intensive, capacity, capability and hybrid computing for scientific research, data modeling, engineering simulations, and seismic visualization. Appro's headquarters is located in Milpitas, CA with offices in Korea, Japan and Houston, TX. To receive automatic Appro news and feature stories, subscribe to Appro RSS feeds at http://www.appro.com, or interact with us on Facebook at http://www.facebook.com/ApproSupercomputers or http://twitter.com/approhpc.
###