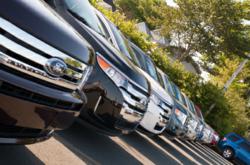 Lumberton, NJ (PRWEB) November 02, 2011
Lucas Ford is receiving Fords equipped with the Sync with MyFord Touch hands-free system, and couldn't be more excited about it. Sync is available on most models and works in conjunction with Smart Phones to give you a safer driving experience while interacting with today's modern features available on most new phones. It offers hands-free calling and audible text messaging along with 911 assistance as well as driver assisted turn-by-turn directions, traffic alerts, business searches, and 411. It's also got entertainment options available such as voice-activated music, internet connectivity, and news, sports, and weather. And Lucas Ford of Lumberton, NJ couldn't be more pleased to be involved in this latest safety trend. Whether looking to purchase a new Ford Fusion in Lumberton or a new Ford Focus in Lumberton when looking for a new car, or a new Ford Explorer in Lumberton or new Ford Escape in Lumberton in the SUV line, they are available on the lot, along with a new Ford F-150 in Lumberton in the truck lineup. It's an option on all of these great quality vehicles in the Ford lineup.
And with good reason: Safety is paramount with Ford. And at Lucas Ford Dealership in Lumberton, NJ, safety and customer satisfaction is No. 1. The Sync technology is also available on the Ford Fiesta, Mustang, and Taurus in the available line of Ford cars, and the Expedition SUV and Crossovers like the Ford Edge and Ford Flex. This is a great start to advancing less driver distraction and more safety on the roadways, not just in this country, but all over the world wherever great Ford products are driven and sold. Besides selling great new Ford products with enhanced safety features, Lucas Ford Dealership also has high-quality used vehicles of a variety of makes and models for sale and offers stellar service and new parts from their service department from highly trained and certified technicians. All Ford service department technicians must go through a rigorous training and certification program that requires annual updating on the technician's part to keep them current with the latest practices.
When taking trade-ins on new Ford cars, trucks, and SUVs, Lucas Ford only accepts the highest quality vehicles and ensures they meet the high standards that are sought in a used vehicle. They are inspected and undergo any servicing or repairs that might be needed in order for them to be declared worthy of resale on the Lucas Ford lot. The dealership strives to maintain the best possible inventory for its customers to keep safety and customer satisfaction at the forefront. Buying a used vehicle shouldn't be a risk or full of guesswork. It should be every bit as pleasant and satisfactory as buying a new vehicle, and Lucas Ford wants to take the guesswork and the apprehension out of it for all customers. In doing this Lucas Ford guarantees customer loyalty for years to come. So when thinking of a new or used car, truck, or SUV purchase, think Lucas Ford of Lumberton, NJ.
# # #