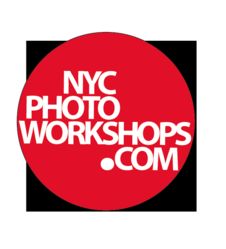 New York, New York (PRWEB) November 02, 2011
With a sophisticated roster of clients and celebrities, professional photographer Jeffrey Apoian (http://www.jeffreyapoian.com) has embraced his passion for teaching by creating a comprehensive photography workshop program for others passionate about learning the ins and outs of photography. Serving novices and pros alike, the appeal for these classes is broad with students coming from throughout the United States and Internationally. By opening NYC Photo Workshops (also known as ThePhotographyWorkshops.com), Apoian has been able to offer a range of classes in his fully equipped professional photography studio in New York City's fashionable SoHo District. This month there are three new workshops added to the list of workshop offerings: Basic Photoshop Retouching, Darkroom Developing and Printing, and A Walking Photo Tour of Lower Manhattan.
After teaching photography classes for Parsons /The New School in his studio, Apoian decided to create his workshop program in order to offer classes he felt were necessary for students to gain a solid grasp of photography. The workshop program was also a response to a need that was expressed by his students for small individually focused hands-on class offerings from someone with the depth and range of experience that he has. The challenges that face students in the use of their camera equipment or the ability to understand how to utilize various lighting options correctly are covered in detail through hands-on instruction.
To ensure every student receives the proper attention and the best learning experience, every course offered at the NYC Photo Workshops (The Photography Workshops) has a maximum of five students or less. The courses are designed to be enjoyable and easy going with a focus on every student gaining the understanding they are looking for. Each course is offered once a month year round.
To find the scheduled dates and pricing go to http://www.nycphotoworkshops.com or http://www.thephotographyworkshops.com. Contact the studio info(at)nycphotoworkshops(dot)com or info(at)thephotographyworkshops(dot)com at 212.431.5513 for more information.
NYC Photo Workshop Class Schedule:
Basic Camera: Become Proficient with Your Camera in a One Day Workshop
The confusing technology built into a modern camera is stripped down to its most basic form. Through practice with some of these simplified camera operations students will gain a new knowledge that will make it possible to apply, practice and master this simplified form of photography. With the basics understood, the camera can be used with practical sensibility. An established sound foundation now makes it possible to build on the additional options you camera is capable of and use them in a sensible manner at will. Simplifying the technical barriers encourages a much friendlier operation of your camera.
"NEW"Photo Tour of Lower Manhattan: All Levels Accepted
This class offers participants a walking photo tour of some of the most historic and interesting areas of the city of New York. Alternate techniques on how to expose and compose are given through the discerning eye of the instructor, lending a critical perspective to your photography. This is a great follow-up to the Basic Camera Course. Areas to be explored: SoHo, Little Italy, Chinatown, Federal District and the Brooklyn Bridge. Visual twists will be achieved to make an ordinary photo become much more interesting.
Studio Lighting: 2 Day Intensive Workshop
This workshop will separate the student from everyone else with a camera that must rely on an uncloudy day for lighting. Learn the function and effect of various lights and light modifiers. Learn how to work with light sources like: daylight, hotlights, strobes, spotlights, ring flash, fresnel, inkies, umbrellas, optical spot, and 1K & 2K sources. Become knowledgeable in diffusion, raw sources, high-key, back-lighting, light meters, and learn how to create incredible images with as little as a single bare bulb. These options and more become the tools from which the student will be able to create the desired lighting effect.
"NEW" Basic "Photoshop" Retouching
Learn the basics of the world's most popular retouching software. Learn how to brighten you photos, add or subtract various colors to make your photos more interesting, clone various parts of photos, remove unwanted distractions, cut a path, and more. Have a photo you want to scan, mend a crack, or give a sepia tone, this class will provide you with the basic retouching skills you need to feel proficient.
"NEW" Darkroom Developing and Printing: The Next Step
Becoming a lost art, this is an opportunity to see why this medium still persists with purists and the most prestigious photographers in the world. Break away from the digital crowd and take the next step with film. If you are ready to leave the "pushing the button" phase of photography, this course will help you to learn how to make "fine art" silver bromide prints from negatives you develop in our studio's private darkroom. You will learn how to process your film, make a "contact sheet", then use and enlarger to make an 8 x 10 print. Included in the class: film, chemistry, paper, darkroom and related supplies.
Coming Soon! A Summer Photo Tour in Greece is in the planning and will be posted the beginning of 2012. To receive information about any of our workshops email us at: info(at)thephotographyworkshops(dot)com.
About NYC Photo Workshops and The Photography Workshops:
Located in the heart of SoHo in New York City, classes are held in an 1800 square foot professional photography studio and taught by successful photographer Jeffrey Apoian. He previously taught for Parson's/The New School at his studio in SoHo. With a passion for teaching, Apoian created the workshop program to accommodate a need for intimate classes that would provide students with comprehensive training in the use of photography equipment and an understanding of lighting issues. Catering to both novice and pro alike students have come from Turkey, India, Greece, and Russia, as well as from across the United States. The class sizes are small to ensure that each student receives the value and the individual attention needed to grasp information through hands-on activity. Courses range from $250 to $745 depending on the class and the number of days.
Jeffrey Apoian's expansive professional career includes clients such as: Aveeno, Arrow Shirts, Victoria's Secret, Avon and Clairol. His editorial work has appeared in Marie Claire, Vogue, Vogue Sposa, Cosmopolitan, Ellen and People Magazine. His celebrity work includes: Isabella Rossilini, Chloe Sevigne, Sting, Ellen Burstyn, Yoko Ono, Carla Bruni-Sarkozi, and Rueben Blades. (http://www.jeffreyapoian.com)
For more information on the workshop go to either http://www.nycphotoworkshops.com or http://www.thephotographyworkshops.com. The studio can be contacted at 212.431.5513.
Contact:
Sandy Hanna
908.361.1843
sndyhanna(at)yahoo(dot)com
###