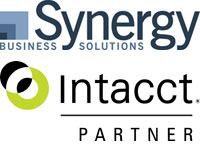 With Synergy's reputation as a leading solution provider of Dynamics SL on the West Coast and Intacct's award-winning Software as a Service (SaaS) Cloud-based software, I can't imagine a better place to be
Seattle, WA (PRWEB) November 03, 2011
Synergy Business Solutions announced today that Rob Hausner has joined the company as their Vice President - Intacct Practice. Hausner brings Synergy 17 years of experience as the owner of two software partner organizations that specialized in mid-market project- and financial-accounting software, including Dynamics SL, NetSuite, and Sage MAS 500.
"I'm really excited about joining Synergy," Hausner said. "With their reputation as a leading solution provider of Dynamics SL on the West Coast and Intacct's award-winning Software as a Service (SaaS) Cloud-based software, I can't imagine a better place to be."
Hausner's expertise, management background, and 25 years of experience in finance, ERP, and IT consulting with KNSi, VAR2, and WaveQ—all operating ERP and infrastructure practices—is a valuable asset for Synergy. Hausner has deep industry knowledge and understanding of business issues in the nonprofit, professional services, and manufacturing industries and has managed over 50 implementations across Intacct, Dynamics SL, NetSuite, Sage MAS 500, and CRM.
"We're not only pleased with Rob's software expertise and management capabilities," said Jered Cady, Executive Vice President of Synergy, "but also the enthusiasm and creativity he brings to our Intacct practice."
Hausner manages selling, implementing, and supporting Intacct—a cloud-based financial management and accounting solution, including project accounting, one of Intacct's core modules. Synergy's clients include project-centric organizations, as well as those in the nonprofit, professional services, software, IT, SaaS, healthcare, and hospitality sectors. Intacct is a preferred provider of financial applications for AICPA and delivers cloud-based solutions that dramatically reduce IT costs, improve productivity and operational efficiency, deliver anytime-anyplace access and real-time visibility, and help companies get out of the IT business to focus on their core mission.
About Synergy Business Solutions
An Intacct Certified Partner with operations on the U.S. West Coast, Synergy Business Solutions provides comprehensive Cloud-based financial management and project/cost accounting solutions to a wide variety of industries. Synergy's Cloud solutions enable nonprofits to get out of the IT business, SaaS companies to easily manage revenue recognition, companies who use Salesforce.com to integrate their CRM with accounting, and project-focused organizations to maximize performance and profitability. Synergy is also a Microsoft Gold Enterprise Partner that empowers project-based companies through their hosted or on-premise solution, Microsoft Dynamics SL. Synergy helps organizations that have outgrown their systems and procedures or identified cumbersome processes, to operate more efficiently while effectively managing projects, resources, time, financials, and growth. Synergy's method of prototyping systems with real company data allows organizations to see how the solution can meet their business needs before they purchase.
For more information, visit Cloud Computing Solutions or call Rob
###