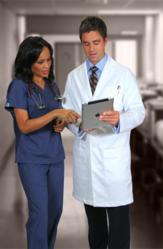 The heft and feel of this coat is exceptional and the quality and design is second to none.
San Clemente, CA (PRWEB) November 09, 2011
Medelita, a high-quality performance lab coat and scrubs manufacturer, is pleased to launch The $20 for $20 Medelita Colleague Referral Program - providing customers with the opportunity to earn $20 in store credit each time a colleague whom they refer makes a purchase at medelita.com. In addition, every referred colleague also receives an initial $20 towards their first purchase, allowing both parties an incredible opportunity to save money on the best tailored lab coats and performance scrubs available to medical professionals.
This brand new Colleague Referral Program was developed to reward customers for their loyalty and continued support. Existing customers have eagerly referred the Medelita brand to their respected colleagues since the company launched in May 2008, and these personal referrals continue to make up a strong portion of new business. With an ongoing commitment to growing the company through personalized customer service and developing new products based on customer feedback, this program is no different. The Colleague Referral Program was developed through talking to customers and listening to what is important to them, and in turn, rewarding them for their support.
Medelita is proud of their esteemed, highly vocal customer base that is in daily communication with hundreds of medical colleagues, and also maintains close communication with their medical school colleagues and co-residents. With such a strong referral base, customers have the opportunity to earn unlimited credit through this program, potentially even resulting in free garments.
The goal is to encourage further referrals and to reward existing customers by giving them exactly what they deserve – the ability to look professional in appearance and truly comfortable in their career, and to do so with an appearance of aptitude and prestige. Medelita lab coats and scrubs do just that. The company often hears about the compliments received at work while wearing Medelita lab coats and scrubs. "The heft and feel of this coat is exceptional and the quality and design is second to none. Within twenty minutes I had lost count of how many of my colleagues had inquired about where I got it, and had run off to their offices to look it up online," says Michael Vinson, BC-HIS, who wears the Osler lab coat for men by Medelita.
The Medelita Colleague Referral Program is a special way to reward the hundreds of thousands of medical professionals who seek innovation – both clinically and professionally. "We're honored that our customers and colleagues feel so strongly about our lab coats and scrubs, and it was our job to make it a simple, rewarding process," says Medelita founder, Lara Manchik Francisco, PA-C.
Through the $20 for $20 Medelita Colleague Referral Program, there is no limit to the amount of store credit that can be earned. Applicable for 90 days, store credit can be used for any medelita.com products, including Web Specials, and can be combined with any discount or coupon code. Medelita store credit is not valid, however, for purchases made on products with exclusive pricing or any affiliate partnerships.
More information about The Medelita Colleague Referral Program and an easy step-by-step guide to getting started are available at http://www.medelita.com/colleague-referral.
About Medelita
Medelita® is redefining the way that healthcare professionals think about their lab coats, uniforms and scrubs by offering the highest quality, best fitting, and most comfortable medical garments available. Medelita combines innovative performance fabric technology and intuitive design to create uniforms that present a professional and sophisticated display of achievement, confidence, and prestige. For more information, visit the Medelita website at http://www.medelita.com or call 877.987.7979.
###