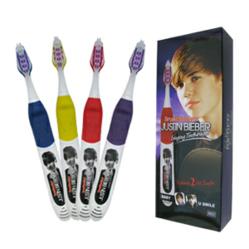 New York, NY and Fontana, CA (PRWEB) November 02, 2011
Bravado, the world's leading global music merchandising company, and Brush Buddies, the world's leading provider of entertaining and educational oral care products, announced plans today to open up distribution and sales of the Justin Bieber oral care line worldwide. The announcement was made today by Felix Sebacious, Senior Vice President of A&R for Bravado, and Anish Patel, Chief Executive Officer of Brush Buddies.
The full line of products designed around the YouTube sensation encourages fans to "get their Bieber smile today" and includes two singing toothbrushes; sonic toothbrush, manual toothbrushes; a microphone shaped flosser; dental floss, and a travel kit. The hottest items of the collection are the two singing toothbrushes featuring some of Justin Bieber's chart-topping hit singles.
The toothbrushes feature two songs, one for morning and one for night brushing; and each recording lasts 2 minutes, satisfying dentists' recommendations. Songs featured are "Baby", "U Smile", "Love Me" and "Somebody to Love".
"Justin Bieber is a true global phenomenon and this is another example of our commitment to developing the most unique and exciting products for his loyal fan base," said Sebacious.
"We're delighted to make the Justin Bieber line of Brush Buddies products available to his fans around the world," added Patel. "We're sure that Bieber fans will be thrilled to have the chance to own a toothbrush where they hear Justin's voice singing to them while they brush."
Follow Brush Buddies on Twitter at http://www.twitter.com/brushbuddies, "like" Brush Buddies on Facebook at http://www.facebook.com/brushbuddies and view Brush Buddies video's on YouTube at http://www.youtube.com/brushbuddies.
About Bravado
Bravado, the only global, 360° full service merchandise company, develops and markets high-quality licensed merchandise to a world-wide audience. The company works closely with new & established entertainment clients, creating innovative products carefully tailored to each artist or brand. Product is sold on live tours, via selected retail outlets and through web-based stores. Bravado also licenses rights to an extensive network of third party licensees around the world. The company maintains offices in London, Los Angeles, New York, Berlin, Paris, Tokyo and Sydney. Now under the Universal Music Group umbrella, Bravado is able to leverage a global sales and distribution network from the world's largest record company, as well as the group's significant marketing strength. In addition to Justin Bieber, Bravado artists include The Rolling Stones, Michael Jackson, Paul McCartney, Kanye West, Beyonce, No Doubt, Nickelback, Lady Gaga, Katy Perry, Elton John, Guns 'N Roses, Metallica, Led Zeppelin, Green Day and The Killers, among many others.
About Brush Buddies
Brush Buddies is the world's leading provider of entertaining and educational oral care products for people of all ages. The Brush Buddies brand includes Sonic Toothbrushes, which clean with 30,000 stokes-per-minute, Singing Toothbrushes, featuring today's most popular music sensations, Talking toothbrushes, designed as five characters to teach young brushers proper technique, Brush Buddies Poppin' toothbrushes, designed as five animal characters whose brush head pops with action and Brush Buddies Standard toothbrushes, designed as three whimsical characters fit for smaller hands. For more information visit http://www.brushbuddies.com
###