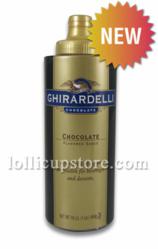 Starting as low as $3.75/bottle, Ghirardelli Caramel Sauce, White Chocolate Sauce, and Chocolate Sauce are available in a smaller size of 16oz.
City of Industry, CA (PRWEB) November 02, 2011
As the temperature drops warm up with comforting fall flavors at LollicupStore.com. For the month of November, customers can experience new flavors from Cappuccine and stock up on more highlighted offerings from Ghirardelli, Torani, and Caffe D'Vita.
Topping this month's offers are three new offerings from Ghirardelli. Starting as low as $3.75/bottle, Ghirardelli Caramel Sauce, White Chocolate Sauce, and Chocolate Sauce are available in a smaller size of 16oz. The new squeeze bottle can deliver huge savings to customers in both price and time; the re-closable lid is designed to prevent sauce spilling and spoilage. Perfect for coffee drinks, cocktails, and desserts, these Ghirardelli sauces are particularly effective at delivering richness and texture to drinks, as well as evoking feelings of warmth and coziness.
Due to the strong consumer demand for coffee drinks, LollicupStore.com is highlighting Cappuccine® Frappe Mixes this November. Coffee lovers shouldn't miss out on the opportunity to try Cappuccine® Specialty Frappe Mix Extreme Toffee Coffee and Cappuccine® Latte Frappe Frosted Latte, which are meticulously blended to create even more of the rich flavors associated with latte. As the winner of "Best New Beverage" at the Seattle Coffee Fest 2010, Cappuccine® Specialty Frappe Mix Red Velvet Frappe is an ideal replacement for the typical red velvet cake. At the low price of $17.95/bag, every café, restaurant, or coffee shop should now be able to keep up with the latest consumer trends in coffee beverage.
Featured flavors of Caffe D'Vita powders are also having their prices slashed. By mixing and matching any four eligible items, customers can get a fifth for freewith promo code "DVITAB4G1". Featured items include Caffe D'Vita Enchanted Chai Tea Latte and Caffe D'Vita Blended Iced Coffee at a discounted price of $16/bag. This entire promotion will enable customers greater opportunities to explore their preferred flavors, as well as experiment with new offerings.
To celebrate this holiday season, LollicupStore.com is getting an early start with the standard holiday selections of Torani. Starting as low as $3.75/bottle, Torani Peppermint Syrup, Italian Eggnog Syrup, Hazelnut Syrup, Gingerbread Syrup, Cinnamon Syrup, and Brown Sugar Cinnamon Syrup will be great additions to lattes, mochas, coffees, and more. Also available are Torani featured sauces including Chocolate Sauce, White Chocolate, Caramel Sauce, and Pumpkin Pie Sauce. Pricing for the Torani featured sauces starts at $9.50/bottle.
Want to try new avenues for holiday drinks but unsure where to start? Just start with LollicupStore.com. Remember that LollicupStore.com will always provide a diverse selection with lots of surprises.
About Lollicup® USA, Inc.
Headquartered in City of Industry, Lollicup® USA Inc. is known for its retailing bubble tea drink stores under the Lollicup® Coffee and Tea and Lollicup® Teazone brands. For more information and the latest news, please visit LollicupStore.com.
###