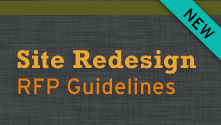 Portland, OR (PRWEB) November 03, 2011
A new report from White Horse addresses roadblocks to developing new and critical elements of digital strategy. "Site Redesign RFP Guidelines: New Rules for an Evolving Digital Landscape" provides a framework for more effective redesigns in 2012.
In 2008, digital marketing agency White Horse issued RFP guidelines with the specific goal of helping businesses achieve better responses from their requests for proposals for digital marketing agencies. Spurred by RFPs requesting voluminous information unnecessary for the bid process, the report helped RFP authors zero in on data critical to receiving responses which align agency capabilities with client needs.
The new RFP guidelines reflect the rapid evolution of the digital space and consumer behavior since 2008, particularly in the growth of social media and mobile computing. Site redesigns taking place in 2012 must account for the increasingly social ways in which consumers make purchase decisions and the increasingly mobile ways in which consumers access brand content. The RFP must reflect these priorities in order for brands to find the right partners and deliver the integrated experiences their customers demand.
"On average, companies redesign their primary websites every three years," states Eric Anderson, VP of Marketing for White Horse. "These guidelines are designed to help companies protect the investment they make today by placing expectations on responding agencies to articulate their ability to deliver a future-forward site."
The report addresses the following RFP topics: Areas of Innovation, including Social, Mobile, and Personalization; RFP Rules of the Road, which provide considerations useful from the beginning of the process; and RFP Guidelines, which includes an RFP template.
"Site Redesign RFP Guidelines: New Rules for an Evolving Digital Landscape," along with many other useful white papers and webinars such as the recently areleased "Mobile Development Guidelines for Government Agencies," "In-Aisle Mobile Engagement," "Lost in Geolocation," and "Top Tech Trends for Digital Marketers," are located at: http://www.whitehorse.com/resources
About White Horse
White Horse is a 31-year-old digital marketing agency relentlessly committed to delivering the optimal consumer experience across all digital channels. White Horse services include digital strategy, Web development, digital marketing, technical engineering, social media, mobile, and audio/video production. View the White Horse portfolio.
http://www.whitehorse.com | Twitter: @whitehorsepdx | White Horse on Facebook
WBENC #252895 EDWOSB
###