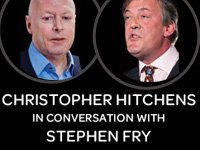 San Francisco, California (PRWEB) November 03, 2011
FORA.tv, the leading online destination for video programs from the best conferences and events, has seen strong demand for a special event being produced in partnership with Intelligence² UK, the world's premier debating forum.
On Wednesday, November 9, 2011 FORA.tv will live stream an exceptional conversation between famed public intellectual Christopher Hitchens and his good friend, actor and writer Stephen Fry. The live stream broadcast will start at 8:30pm GMT (3:30pm ET and 12:30pm PT). This highly anticipated, sold out event will originate from Southbank Centre's Royal Festival Hall in London, England.
FORA.tv will serve as the exclusive online global distributor of the live program.
Tickets for live and on-demand viewing can be purchased for £5 (approx. $7.88 U.S.) at: http://hitchfry.fora.tv and the event will begin streaming on Wednesday, November 9.
For video highlights of Hitchens and Fry from a 2008 Intelligence² UK debate, visit: http://www.youtube.com/watch?v=bD6UN2u8WPE.
About FORA.tv
FORA.tv is the leading online destination for video programs from the world's best conferences and events. With more than 10,000 free and fee-based videos, FORA.tv has the web's largest collection of programs that feature the people, issues, and ideas changing the world. FORA.tv helps hundreds of organizations including the Aspen Institute, the Economist, the New York Public Library, and Wired expand the audience for their events. FORA.tv has been named a Top 50 Web Site by TIME, and a Top Education Site by The Telegraph. FORA.tv is funded by a select group of investors led by William R. Hearst III and is based in San Francisco. For more information, visit http://fora.tv.
###