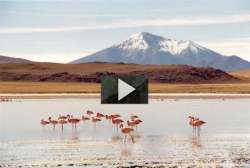 A Holiday in Bolivia is a visit to the past and an adventure in discovery. Be sure to see the video in the Travel2Exotic blog.
Bridgetown, Barbados (PRWEB) November 03, 2011
Extraordinary hotels and resort destinations now have access to the exclusive website Travel2ExoticPlaces.com, which introduces savvy travelers to exciting exotic vacations. Travel2 Exotic Places (T2EP) provides complimentary information on special hotel packages and tour opportunities so that travelers are able to truly experience the local culture in the best accommodation in the area, whether it is a jungle hut or a five-star hotel.
The T2EP platform is a unique channel that features the world's most incredible places to explore. Properties, such as Marigot Beach Club in Marigot Bay, St. Lucia, and the Bolivia Hotel Du Su Merced in Sucre, are promoted by a professional video, an engaging blog and a fascinating newsletter targeting travelers who have expressed interest in exotic destination adventures.
The marketing package also includes social indexing for search engine optimization. Utilizing AXSES proprietary tools and travel technology, SocialIndexEngine.com delivers an effective, affordable and sustainable marketing campaign.
Selections are made by invitation or referral only. While T2EP is discerning in the properties and exotic hotels and destinations it features, any hotel or resort destination seeking a solution-oriented editorial service is encouraged to contact the company for a consultation.
The new T2EP website is one of several successful travel portals launched by AXSES, the pioneers in advanced travel marketing technology, content server management, multimedia systems, portal keeping and global information services. Respected for its performance, innovation and imagination, AXSES offers cutting-edge marketing and communication solutions designed to help clients stand out in the Internet-driven world of travel.
"Travel2ExoticPlaces.com features the best family friendly accommodations, romantic getaways and unique holiday accommodations and destinations. These are places for travelers who are seeking an exciting adventure off the beaten path," says Ian Clayton, CEO of AXSES. "Exotic places have the power to transform lives with their mystery, beauty, history and cultural insights."
Using T2EP's complimentary website, travelers can design their own custom exotic destination holiday, gleaning all the information they need through the site's video and blog channels. T2EP's newsletter delivers information on the latest exotic deals and provides inspiration for booking vacations to exclusive, exotic destinations.
Travel2ExoticPlace.com is not a travel agency, so the company does not earn a commission. The website exists solely to introduce the world to colorful cultures and breathtakingly beautiful places, such as the Caribbean, the Sahara Desert, Madagascar, Thailand, Maldives, Sri Lanka and Bolivia. Each featured destination brims with character and is located in the heart of the local culture.
ABOUT AXSES
AXSES is a leader in Social Marketing for Travel. It was one of the first companies to develop a direct bookings application for Facebook, and has consistently been an innovator is all aspects of travel marketing. In 2011, AXSES was featured by the New York Times in an article on Social Media use in Travel.
Travel to Exotit Places| AXSES SocialIndexEngine
Marigot Beach Club | Bolivia Hotel De Su Merced | Bolivia Video & Blog
###