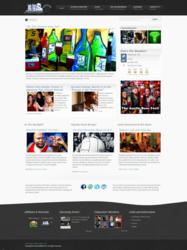 Houston, Texas (PRWEB) November 02, 2011
Urbancitytv is the first video based magazine with a business directory and community for the city of Houston. Dexter Bayack, founder and creator states, "I would like to make it clear: we are not seeking to overthrow social media networks such as Facebook, LinkedIn, YouTube or Groupon. Our goal is to take the best social marketing platforms and combine them into the ultimate local community resource." Urbancitytv weaves its marketing into its content using video blogging or vlogging. The components that make up Urbancitytv are:

Business Listings
The Video Blogs and Magazine
The Community
Events
Business Listings/Microsites
Urbancitytv connects local businesses with potential customers in a personal way through customized business listings and unique, personalized videos, creating rapport and trust with the customer. Customers can find coupons, job openings and special deals from their favorite, local businesses.
Although online video is the most effective form of advertising, Houston businesses do not have a local platform to utilize this type of marketing thus relying on YouTube which is less than ideal. These generic platforms are not targeted to a geographically specific audience, thus resulting in minimal traffic for local businesses. Urbancitytv's solution is to offer local businesses a platform that utilizes video to promote their products and services to a targeted and captive audience in a video listing or Microsite. Dexter Bayack states, "Over the past year we compared video traffic between YouTube and Urbancitytv. Urbancitytv's videos received at least 4 times more traffic than their YouTube counterparts." Visit Urbancitytv's online marketing strategies page for more information.
The Video Magazine
Urbancitytv has found that one of the best ways to keep visitors coming back and engaged is through video content documenting Houston's rich and diverse culture. This serves an excellent resource for tourists as well as locals alike. Areas of coverage include:
Attractions & things to do in Houston
Autos
Fashion
Subcultures & Lifestyles
Music
Members are offered the opportunity to get featured, putting the locals in the spotlight. It's also an incentive for viewers to join, participate and share the content.
Welcome to The Neighborhood
So how does Urbancitytv compete with Facebook & LinkedIn? They don't. Profiles are set up to include a member's personal information, business information, experience and more which can be used as a portfolio. This creates greater opportunities for members career wise. Twitter updates and a music player are available options to spice things up. Members have complete control over their privacy and can determine which fields are publically or privately visible. Their information is not sold to third parties or used for any marketing purposes. Features for members include:
Connect and expand your network
View profiles and add new friends
Share your photos and videos
Create your own group or join others
Get featured in the video magazine
Create a personal and professional profile
Connect with employers and find jobs
Events
Why mention events? Urbancitytv not only participates in local events, they also plan their own events. Urbancitytv serves as the perfect platform to connect members, businesses and local events in one, easy to use website. The events are videotaped and featured on the website for all to enjoy. A $1,000 cash prize will be given away at our Houston concerts.
Marketing
Urbancitytv's exposure comes from both traditional and new media sources of advertising which are proven to attract over 50,000 visitors per month. The sources include:
Search engine optimization (SEO) of the site
Radio and online advertising
Video blogging & article marketing
Email, Twitter and Facebook campaigns
Conclusion
"We are constantly tweaking and testing to make sure we have a solid product. We finally feel our product is ready to release to the media. We hope to change the face of local media, business marketing and social interaction with an engaging, comprehensive, all-in-one solution." – Dexter Bayack
###