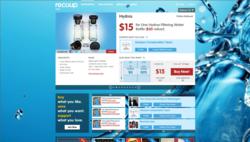 With Recoup, promotions are a tool to enhance good brands, support good causes and connect with thoughtful consumers...
Washington, DC (PRWEB) November 03, 2011
Recoup (http://www.recoup.com), the first cause shopping channel, announced today that it is open for business. Recoup's innovative business model blends commerce and philanthropy in a powerful way that benefits businesses, nonprofits and people. Through Recoup, businesses empower their customers to purchase a promotion on a product or service, make a tax-deductible contribution by donating part (or all!) of the savings to a charity of choice, and have their donations matched by a sponsor—all in one transaction. Prior to launch, Recoup has already forged relationships with 60+ national and local nonprofits capable of reaching 5 Million supporters, along with businesses united by the desire to connect with new customers in meaningful ways.
"Recoup is the first company in the online cause marketing space that is putting emphasis on philanthropic giving by letting individual consumers determine to whom and how much they wish to donate and get the credit for it, all while purchasing a product or service they enjoy," said Luca Pivato, Co-Founder and CEO of Recoup. "With Recoup, promotions are a tool to enhance good brands, support good causes and connect with thoughtful consumers; they are not a means to drive flash sales. In our model, promotions are converted into donation opportunities that connect businesses to people through the causes they support."
RECOUP REINVENTS ONLINE CAUSE-MARKETING and FILLS A VOID IN THE MARKETPLACE BY CONNECTING NONPROFITS TO BUSINESSES AND CONSUMERS IN A MANY-TO-MANY MODEL
"Some retailers already offer consumers the opportunity to buy items that support good causes. That's good. But what if the cause selected by the business is not personally relevant to consumers? Would the business gain more favorability if they could support what matters to buyers? These are some of the questions that led us to create Recoup," says Claudio Bazzichelli, COO and Co-founder of Recoup.
Recoup combines the best practices of cause-marketing and grassroots fundraising in a collaborative single-point-of-sale platform that creates powerful synergies effects for businesses, nonprofits, donors, and consumers. Recoup's innovative model enables small businesses small and large, local and online national, to benefit from cause marketing at a small fraction of the traditional cost by connecting them directly with the nonprofit organizations supported by their likely customers and virtually eliminating the related administrative burden. Large businesses and brands, through Recoup, can connect with many local nonprofit organizations that are now routinely turned away, enhancing their ties with local communities.
"Recoup fills a void in the marketplace that has been overlooked for quite some time," said Pivato. "We create value for businesses, nonprofits and for people through a transactional platform that is flexible, scalable and relevant from a consumer point of view."
RECOUP MEETS THE NEEDS OF THOUGHTFUL CONSUMERS
Recent studies from Cone, and others, show that: in the US today, 90% of consumers want companies to tell them how they are supporting causes; 92% of Americans want to buy a product that supports a cause; when a company supports the issue consumers care about most, it is rewarded with their trust, loyalty, advocacy, engagement and increased sales.
With that in mind, Recoup provides value to a new generation of consumers: the thoughtful consumer. This category stretches across various demographic groups; empowered by multiple digital devices, this category of consumer makes purchases with an eye to the greater good – whether that pertains to economic development, health, fitness, sustainability, organic food, conservation, efficiency, renewables, etc.
"Recoup aims to create a channel that nurtures a community of thoughtful and responsible buyers that build value and loyalty for businesses and nonprofits. We are definitely not looking to liquidate products and services in order to generate quick and transient traffic based on deep, often unsustainable, discounts." said Andrea Fabbri, CMO at Recoup.
HOW DOES RECOUP WORK? THE TECHNICAL DETAILS

Recoup works with merchants to pair a promotion with a default cause suggested by the business. A promotion can be simultaneously paired with different organizations in different states.
Recoup tells its subscribers and its nonprofit partners about the promotion. Businesses can also advertise their new cause promotions online.
Users and nonprofits can create an "instant fundraiser" by "flipping" the promotion to benefit their own personally-relevant cause (including their schools) and inviting their friends and supporters to participate.
Buyers have the opportunity to increase the guaranteed donation by converting part or all of the discount value into a tax-deductible contribution —even though they ultimately receive goods or services worth as much or more than they paid.
Matching sponsors agree to double, triple, or quadruple donations made to an organization of their choosing, dramatically amplifying the social effect.
All of this happens in a simple, intuitive graphical user interface.
"Our vision is to make Recoup the hub in a new horizontal marketplace that we are creating; it's a new and easy way for businesses to support good causes and connect with people at a personal level," said Pivato.
BUSINESSES, NONPROFITS and PEOPLE ARE THE BENEFICIARIES
"Recoup has created a new way for charities of all sizes, both local and national, to broaden their donor base and engage their current supporters and non-donating contacts in new and exciting ways," says Tim Clinton, Chief Relationship Officer at Recoup. "Being selected as a default beneficiary can give a nonprofit valuable exposure before an audience of prospective supporters, the "Flip and Share" feature enables non-profits and their supporters to harness the incredible power of cause-marketing without the administrative burden."
"Young people are definitely interested in buying products that help support our organization," said Heather Smith, President of Rock the Vote. "We believe Recoup is a great way to empower this Generation—who already give so much of their time and energy to our work—to advance our mission financially as well as take advantage of donation opportunities made available by businesses through Recoup. Given the 2012 presidential election just a year away, the timing of Recoup's launch could not be more fortuitous."
With the ability to reach more than 5 Million supporters through 60+ nonprofit organizations signed up before launch, purchases of Recoup promotions will benefit national charities like Doctors Without Borders/MSF, American Forests, Kids in Distressed Situations (K.I.D.S.), Ovarian Cancer National Alliance, and Rock The Vote; local chapters of national organizations like Special Olympics, the Humane Society, Meals on Wheels, Goodwill, HomeAid, and Girls on the Run; and purely local organizations like the Arlington Arts Center, Stoddert Soccer League, DC Central Kitchen, and Bread for the City. In addition, Recoup has also partnered with Global Giving, allowing Recoup's members to support various Global Giving Projects all over the world.
$25,000 MATCHING PROGRAM
as pledged until the end of 2011 to match all donations to its non-profit partners that sign up a minimum of 100 supporters. "As soon as a non-profit partner reaches 100 supporters in our system, the 2X matching sponsorship badge is automatically enabled and will remain active until the end of 2011 or until the full fund has been disbursed, whichever occurs first," explained Clinton.
ABOUT RECOUP
Recoup is the first cause shopping channel where millions of people support causes they care about by connecting with merchants to buy brands that want to do good. Our innovative and patent-pending system empowers customers to choose which organizations they want to support, how much of their discount they want to give as a tax deductible contribution, have their donations multiplied by a matching sponsor, and invite their friends to join instant fundraisers - all through a single point of sale. More information can be found at: http://www.recoup.com.
# # #